Top Affordable Washing Machines Under £300
Buying a budget washing machine is no easy task. The market is saturated with models all planning to do the same thing, with small technical differences that don't mean much to the average Joe. 
To help with the buying process, we've put together this guide to help you find the best washing machine under £300 that suits your needs. 
As well as our top 5 washers and their reviews, this article will also include:
How to Choose the Right Washing Machine + Jargon Buster
Are Expensive Washing Machines Worth It?
How to Take Care of a Washing Machine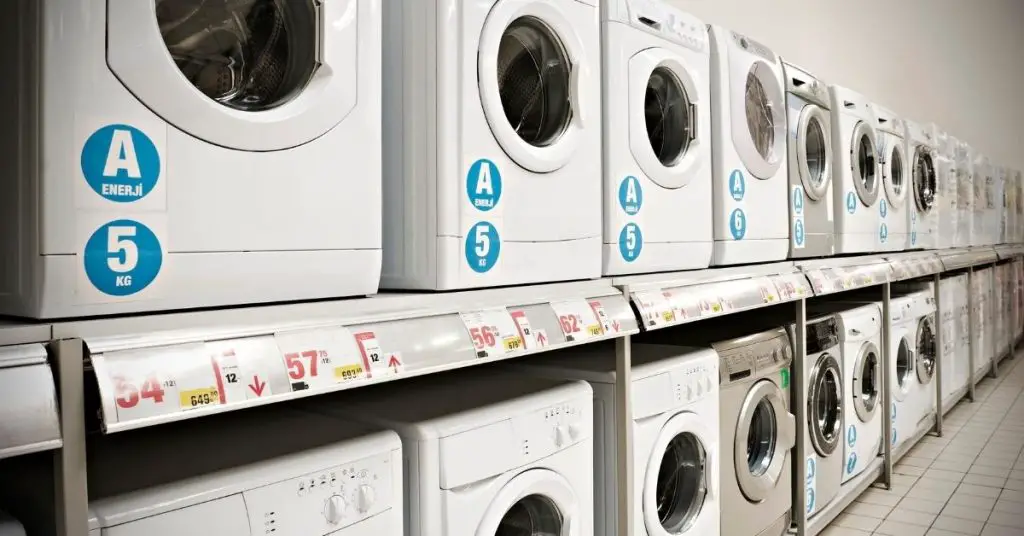 Don't feel like reading? Here's a quick snapshot of our top 5 washing machines under £300. 
1. Candy GVS168D3 – Freestanding, White, 8kg 
2. Beko WTG841B2W – Freestanding, White, 8kg 
3. Indesit My Time EWD81482W – Freestanding, White, 8kg 
4. Indesit My Time EWD71452W – Freestanding, White, 7kg 
5. Electra W1042CF1W – Freestanding, White, 5kg 
For those wanting some extra information, these washing machines reviews (including technical details and their pros and cons) can be found later in the post after our buying guide. 
Related Laundry Articles:
Best Smelling Laundry Detergent UK: Ultimate Buyers Guide
The Best Natural Washing Powder In The UK
The Ultimate Guide To The Difference Between Bio And Non-Bio
How to Choose the Right Washing Machine 
Washing machines are brilliant inventions with numerous, varying features. 
Looking for a new appliance can be a confusing process due to the technical specifications. 
It can be hard to know what they mean and what difference they'll make to your clothes, bills and life in general. 
We all have different needs when it comes to laundry. To help you choose the best one for you personally, we've outlined the key things to consider when selecting your next washing machine. 
What Features Should I Look Out for When Buying a Washing Machine?
Load Capacity
A washing machine's load capacity refers to the weight of dry clothes, sheets and towels a machine will fit where it operates best.
Under and overloading a washing machine can cause an off-balanced spin or poorly washed clothes, as well as reduced energy efficiency. 
It's important to choose the right load capacity, and there are a few ways you can work this out. 
Weigh your average laundry load. Either with luggage scales or buy weighing yourself with and without holding your laundry and working out the difference.
According to Which 1kg kilo of clothes would be equal to four men's cotton shirts, or one shirt and a pair of men's jeans. You can use this figure to gauge how many kilograms your average loads are. 
Follow this rough guide and adjust to your specific needs, i.e. regular sportswear washing.
6kg and below: single-person household or couple with infrequent washing 
Between 6kg and 8kg: Couples to Households of four with infrequent washing
9kg and up: Households of four with frequent washing and large households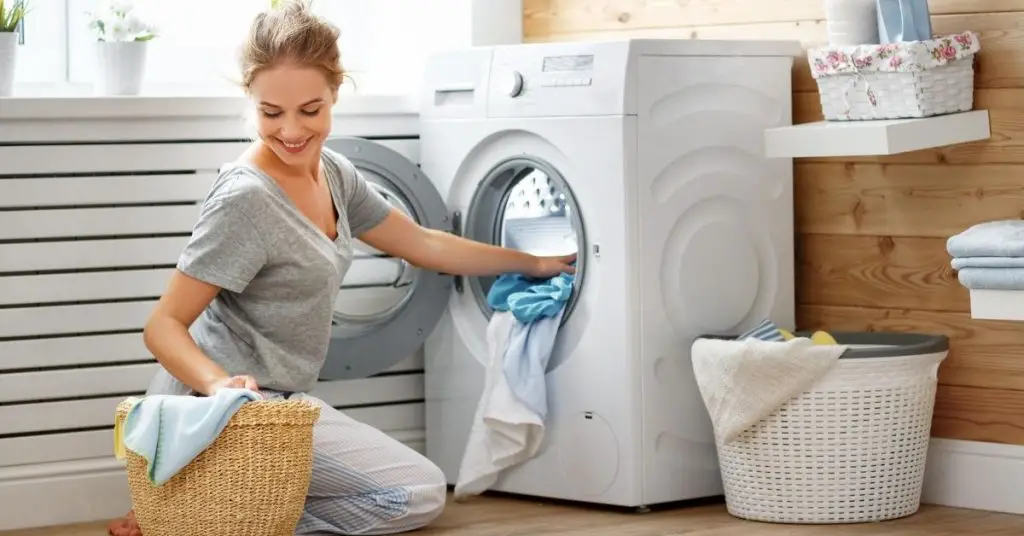 Freestanding/ Built-in
Built-in washing machines are integrated models that are part of your cupboards, like a dishwasher. 
Most washing machines are freestanding, which tend to have a more significant range of capabilities and features compared with most built-in models, as well as newer designs. 
Dimensions 
Dimensions refer to the width, depth and height of a washing machine. 
If you're planning on sliding your new washing machine under a sideboard or building it into a cupboard, getting the right dimensions is crucial. 
Energy Efficiency
The most common and official measure of a washing machines energy use is the EU energy label.
The current scale for washing machine energy efficiency starts at A as the least efficient, increasing to A+++ as the most efficient. 
Brand Status
Opting for a cheaper appliance may result in a compromise on brand reliability. 
Although cheaper models might be of the same quality, their guarantee's might not be as good, which could be pricy down the line. 
Because of the lessened brand reliability, it's worth taking more care looking after a cheaper model than you would for a more expensive brand. 
Features
Since washing machines are primarily the same appliance with different technical specifications, manufacturers will add special features to their models to try and increase demand. 
These could be eco-features, where washes work just as well at lower temperatures.
It could be extra-quiet cycles, or special detergent releasing.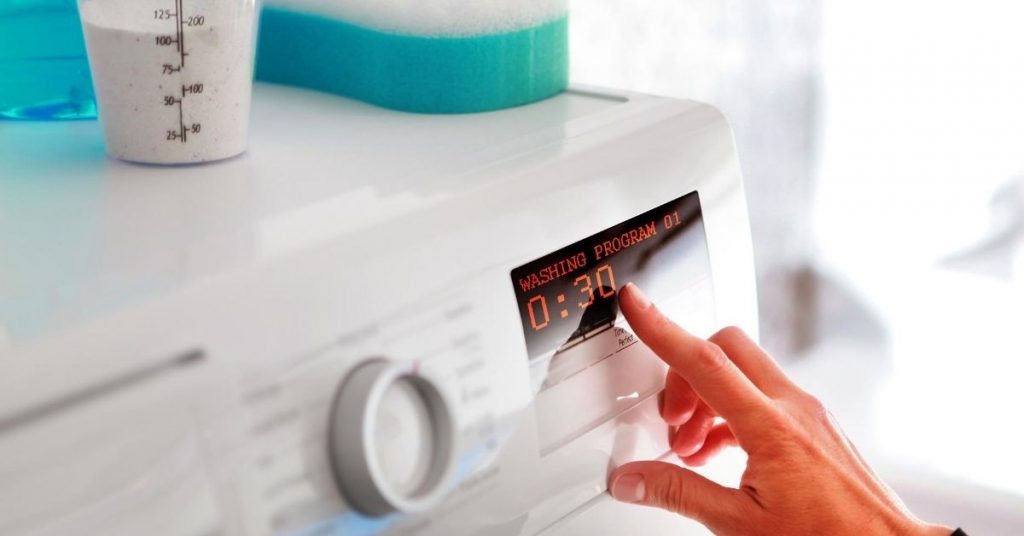 Wash Cycles
One of the most important considerations when buying a new machine is the cycles available. 
Wash cycles refer to the pre-set programs a washing machine uses to do its job. They comprise of an initial washing cycle, a rest period, a rinse and then spin to remove the water. These steps might repeat depending on the cycle selected, i.e. sportswear will require a deeper clean than a gentle cycle like wool or delicates. 
Especially with cheaper models, some washing machines may not have all the pre-set cycles as other appliances. 
Think about what you use the most on your current machine, and make sure your new model has the same cycles. 
For more information and tips on choosing a washing machine, we recommend watching this video.
Best Washing Machine Under £300: Clean and Tidy Living Top 5
This affordable Candy washing machine has an average-sized drum capacity suitable for most households.
It's got a high energy efficiency rating of A+++, but this doesn't necessarily mean it'll save water or electricity. 
This washer's maximum spin speed is 1600rpm, although some reviewers said it's not as fast as their other 1600rpm machines but that it still does an excellent job at washing.
There are 15 wash programmes to choose from as well as a long optional delay for those washes you want to be done as soon as you're awake. 
The Candy GVS168D3 uses unique drum movement and spin speeds for a deeper clean.
Brand: Candy
Product Dimensions: 54 x 60 x 85 cm
Capacity: 8kg
Energy Efficiency: A+++
Item Weight: 70kg
Door Orientation: Left
Overall after researching this Candy washing machine we found that it's the best washing machine for its price point in terms of features, capacity and energy efficiency.
It's great for small to medium households but not ideal for large homes with lots of washing. To find out more about the Candy GVS168D3, click the button below. 
This 8kg drum capacity Beko washing machine is a great option for big families as 8kg will usually be enough. 
9kg or 10kg would be better for a big family, but you're unlikely to find a quality model for under £300. 
This washer has a A+++ energy rating and a 1400rpm maximum spin speed. Not as fast as our number one choice but still decent for general drying. 
There are 15 different cycles which will probably never be used, but it's still nice to have the option. The short 28-minute cycle is ideal for less-soiled clothes and towels to save energy. 
Great value for money option, with excellent performance. A big enough capacity for medium-sized households. 
Brand: Beko
Product Dimensions: 59 x 60 x 84 cm
Capacity: 8kg
Energy Efficiency: A+++
Item Weight: 73kg
Door Orientation: Left
Overall after reviewing this product we've found it to be the best model under £300 for big families. Despite this, we would recommend investing a little extra to get a 9kg or 10kg washing machine so you can do larger loads at once instead of multiple smaller loads.
This machine would be okay for a big family that doesn't need infrequent washing, but if you have sporty people and lots of kit or towels to wash, it might be an issue. 
The My Time EWD81482W washing machine is from a well-known budget appliance manufacturer. 
Their machines are renowned for their affordable price point but, unless well looked after, might not last longer than 3 or 4 years. 
Despite this, the washer does boast 16 different wash programmes and a 1400rpm max spin speed which provides a good clean to your clothes. 
This machine has lots of spin settings to tailor your cycle to your exact needs and what you're washing. 
Brand: Indesit
Product Dimensions: 60 x 59.5 x 85 cm
Capacity: 8kg
Energy Efficiency: A++
Item Weight: 75kg
Door Orientation: Left
If you're looking for a washing machine that has multiple cycle settings and an excellent short cycle, then we recommend this washing machine. The 8kg capacity is also a fantastic benefit that would suit most households.
However, we don't recommend this washer to someone who's looking to buy a machine that will last for a reasonable amount of time (5+ years). To find out more about this washing machine, click the button below. 
This model is a slightly smaller version of the above Indesit My Time, which is better suited for couples that will struggle to fill an 8kg washing machine. 
The cycles, energy efficiency and short wash, are the same as the above Indesit My Time, just with a smaller capacity.

The cost saving isn't that different so if you're a household of 3 or more (or will be in a few years), we recommend the 8kg machine. 
A great value, 7kg washing machine with a range of spin cycles and a 20-minute short wash setting for freshening up. 
Brand: Indesit
Product Dimensions: 53.5 x 59.5 x 85 cm
Capacity: 7kg
Energy Efficiency: A++
Item Weight: 75kg
Door Orientation: Left
Overall after researching and reviewing this product we think it's the perfect washing machine under £300 for couples or potentially a household of three.
However, this washing machine wouldn't be enough capacity for a house of 3 with lots of washing or more than four people. Find out more about this washing machine by following the link below. 
This affordable 5kg washing machine has a wide range of wash cycles that you'll probably never end up using, but it's still nice to have the option. 
The wash cycles all work great, but longer drying times are needed as there's a reduced spin cycle and only 1000rpm. 
It has an A++ energy rating and will be exceptionally efficient if you use the shorter cycles like the 15 minute one. 
This is a great machine for single households as its slightly smaller in size and will wash thoroughly with fewer clothes. 
An affordable washing machine with a smaller capacity ideal for smaller households who don't need to spend a lot of money on a large-load washer. 
Brand: ELECTRA 
Product Dimensions: 49.7 x 59.7 x 84.5 cm
Capacity: 5kg
Energy Efficiency: A++
Item Weight: 58.5kg
Door Orientation: Left
Overall after researching and reviewing the product we think it's the perfect washing machine under £300 for single households. 
If you're looking for a 5kg washing machine there's no need to invest in the premium brands as the functionality will be just as good for smaller load sizes. To find out more about this Electra washing machine, click the button below. 
Are Expensive Washing Machines Worth It?
Cheaper washing machine brands like Indesit, Beko and Hotpoint tend to produce good short-term solutions to an affordable washing machine. 
However, the compromise is sometimes with the warranty length and less energy efficient machines 
The extra cost of potentially replacing machines every few years might end up being more than the cost of investing in a premium machine every 10+ years. 
Low energy efficiency might result in higher bills which overtime could reduce your cost-saving from buying a cheaper machine.
However, even though the drum size and faster spin cycles might be better on a premium washer, the functionality will ultimately be the same from producing in "best practice" for washing machines.
So, instead of considering the price alone make sure you're taking into account the number of programs you need, the energy efficiency, warranty and capacity.  
How To Take Care Of A Washing Machine
Especially with a cheaper machine, it's essential to take care of your washing machine to prolong its, usually, short life. 
Here are some steps you can take to prolong the life cycle of your washing machine:
Leave the door open to air it out and reduce damp smells
Take clothes out of the machine as soon as possible to reduce damp 
Monthly maintenance wash on a high temperature with no clothes and with a detergent with bleach (60-90 degrees). This can improve wash quality too. 
Clean detergent drawer when gunk appears to prevent mould
Empty and soak the filter and reduce builds up of lint that can block and stop drainage
Wipe clean the outside of the machine with non-abrasive products (dish soap is fine)
Wipe behind the door seals (you'll be surprised how grimy it can get!) 
Checking the outer components every once in a while (make sure you know how to reattach them once clean) is an excellent step in ensuring your machine lasts for years.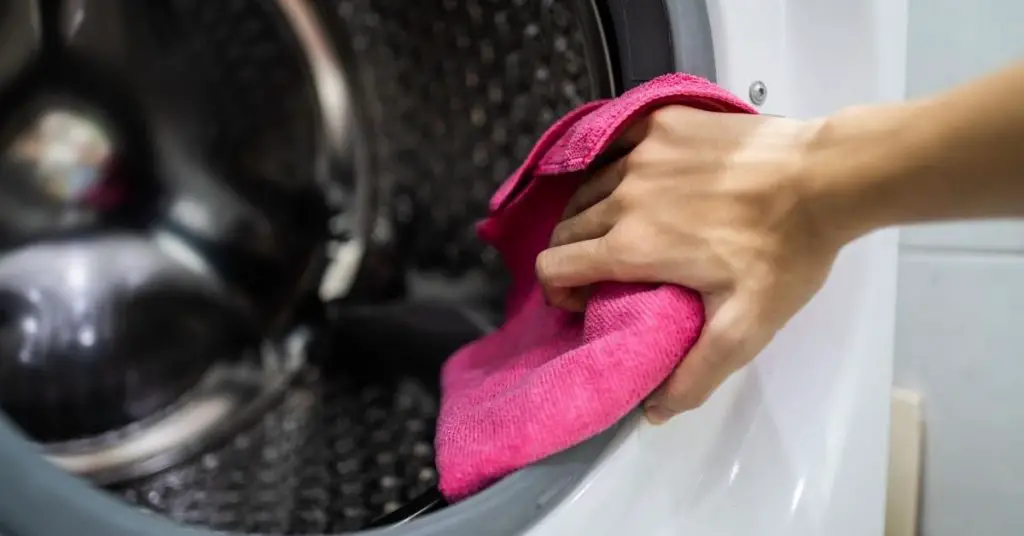 Best Washing Machine Under £300 – Final Thoughts
We hope these tips and reviews have been helpful in your research on a new washing machine. 
At Clean and Tidy Living we understand that the best appliance for one person or household won't work for another, so we provide a range of products that should suit every budget and lifestyle. 
However, we hope that you have found your best washing machine under £300 that will work for your specific situation. 
You can find all the products we've mentioned here:
1. Candy GVS168D3 – Freestanding, White, 8kg 
2. Beko WTG841B2W – Freestanding, White, 8kg 
3. Indesit My Time EWD81482W – Freestanding, White, 8kg 
4. Indesit My Time EWD71452W – Freestanding, White, 7kg 
5. Electra W1042CF1W – Freestanding, White, 5kg 
Related Cleaning and Washing Articles:
Best Washing Machine Under £300 in the UK