How Heavy is a Washing Machine?
We don't put much thought into how much a washing machine weighs until it's time to move it or buy a new one. 
Some older homes may also have to consider the weight a weak floor can safely hold.
For integrated washing machines weight is important because of the material used to make the unit and stand the appliance on.
Although we suggest checking the specific weight of each model individually, we can safely predict that most UK front-loading washing machines will weigh between 60-80kg.
Most washing machines are designed with either concrete or water weights in the top or base of the machine to help balance and secure the appliance. 
Modern machines will opt for the water weight to cut down on transportation emissions and costs, and also so movers can empty and refill the water when lifting the washing machine. 
In this post, we'll cover how much washing machines weigh and their average weight and how much a tumble dryer weighs.
How Much Does a Washing Machine Weigh?
Generally, washing machines weigh between 60kg and 80kg, increasing or decreasing depending on the wash capacity, size and design of the appliance. 
For example, the Bosch Serie Washing Machine has a 7kg wash capacity and weighs 68kg, and the SAMSUNG Auto Dose Washing Machine has a 10kg capacity and weighs 77kg. 
However, you can find lighter, large capacity washing machines – like the HOOVER WiFi-enabled Washing Machine with a 10kg wash capacity which weighs in at just 66kg – and vice versa. 
Average Weight of a Washing Machine in KG?
If you're planning on lifting or manoeuvring a washing machine, it's better to overestimate the weight of an appliance. 
Although the average washing machine is probably about 7-8kg in a UK household, it's safer to assume that it weighs between 70-75kg instead of underestimating and causing injury or damage. 
Luckily, on every appliance selling website, they are required to list the weight of the object. 
In most cases, they'll even have the unboxed and boxed weight of the machine.  
For washing machine cleaning tips and advice, check out our Clean and Tidy Living articles How To Clean A Washing Machine With White Vinegar and our detailed post How To Clean A Front Loading Washing Machine With Vinegar And Baking Soda.
How Much Does a Tumble Dryer Weigh in KG?
On average, a tumble dryer in the UK will hold between 6kg-10kg for a drying cycle. 
This capacity variation means that the average weight of a tumble dryer also varies. 
We chose a few popular tumble dryers at random and compared their weights to find a rough average weight. 
The average weight of a front-loading washing machine in the UK is between 30-40kg for a plastic appliance, with metal dryers weighing closer to 50kg. 
This 10kg capacity BEKO DTBC10001W tumble dryer weighs 37.5kg, whereas the HOOVER Dynamic Next DX C10DE 10kg dryer weighs just 32.3kg.  
On the other end of the scale, the INDESIT Ecotime IDV75 7kg tumble dryer weighs 34.6kg and the 7kg MIELE TDA140C weighs a whopping 49.5kg 
This large variation in weights is most likely down to the material used to make the appliance. 
INDESIT is a more affordable manufacturer so will probably use plastic for their dryers, whereas Miele is top of the range and will go for higher quality materials like stainless steel. 
Interestingly, it seems like the capacity of the dryer makes no difference in the weight of the appliance.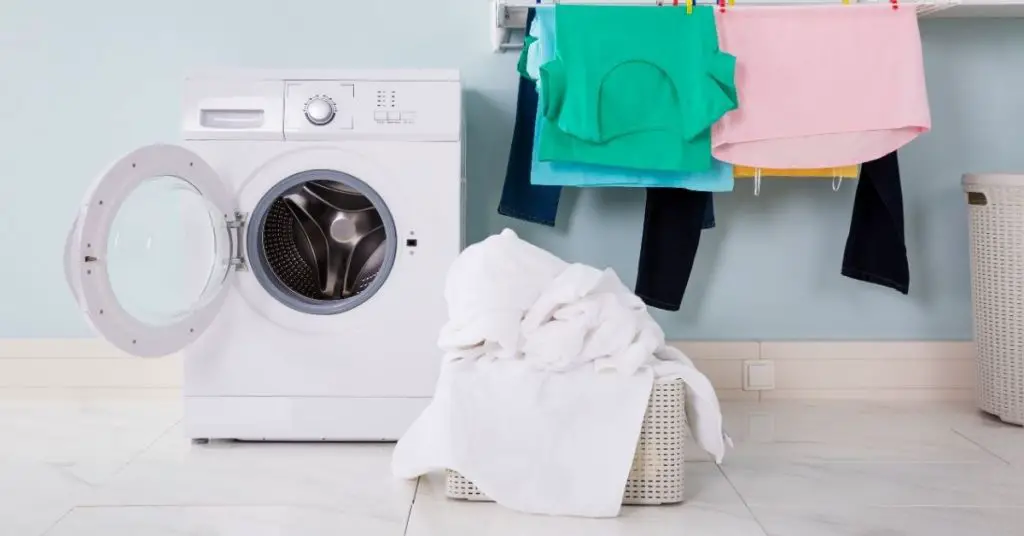 How Much Does a Washing Machine Weigh in KG – Final Thoughts 
To summarise, we found that the average weight of most UK front-loading washing machines is between 60 and 80kg with most sitting at around 70kg. 
The average weight of a tumble dryer in kilograms is about half of a washing machine, usually between 30 and 40kg for plastic dryers, and 40-50kgs for stainless steel appliances. 
Whether you're planning on moving your appliances and are wondering if it's doable without getting the movers in, or you just felt like finding out the weight of your appliances, we hope this post has been useful. 
Remember if you're planning on moving your appliances to lift them carefully and safely, and protect flooring from potential damage by using fabric or wooden ply boards. 
If you're looking to buy a light-weight tumble dryer or washing machine, then cheaper is probably a better option. 
The more durable and higher quality appliances will use heavier metal like stainless steel, whereas the affordable dryers and washers are usually plastic which is much lighter. 
From everyone at Clean and Tidy Living, we hope this article has been helpful and that you've found the information you were looking for. 
If you've enjoyed this post, you might like some of our other appliance related posts and review articles linked below. 
Related Washing Advice Articles:
How Much Does a Washer Weigh?