Top Eco Cleaning Products Available Online in the UK
Recent years have seen a big rise in awareness of the effects our purchasing choices have on the environment.
Companies are no longer able to hide their mal-practices and harmful production methods. 
We're also much more clued up on what to avoid and how to make better choices.
Businesses reacted to this by putting eco-consciousness at the forefront of their marketing and production.
This transparency makes it much easier to find eco-cleaning products. However, it's also led to a lot of companies lying about how sustainable they actually are. 
We've collected the best eco-friendly cleaning products (UK), so you can spend less time researching and skip straight to the good stuff. 
As well as the top eco cleaning products, we've put together a mini-guide. In this, we explain factors that influence whether or not a product is environmentally friendly. 
Having a bit of background knowledge helps with knowing what to look out for, and be wary of, when shopping for sustainable cleaning supplies. 
What Are Environmentally Friendly Products?
Eco-friendly cleaning products tend to use natural ingredients, recyclable or reusable packaging and are vegan or cruelty-free. 
However, for a truly environmentally-friendly product, there are many more factors that go into it. 
Unfortunately, there's no perfect answer to what makes an eco-friendly cleaning product. 
There are numerous factors that will affect how sustainable something is. 
Most products won't follow all of them, so it's worth considering what is the most important factor for you and your lifestyle and selecting products that match those priorities. 
Things to Consider 
Carbon Footprint 
A products carbon footprint refers to the environmental impact of its production and transportation. 
A good example is a product that is 98% water, like most cleaning sprays, will have a much larger carbon footprint than a powder or highly concentrated product. 
In fact, most products that are being transported around the world in trucks, boats and planes are mostly water. 
Think how much this could be reduced if all products were made so that the water could be added after purchasing!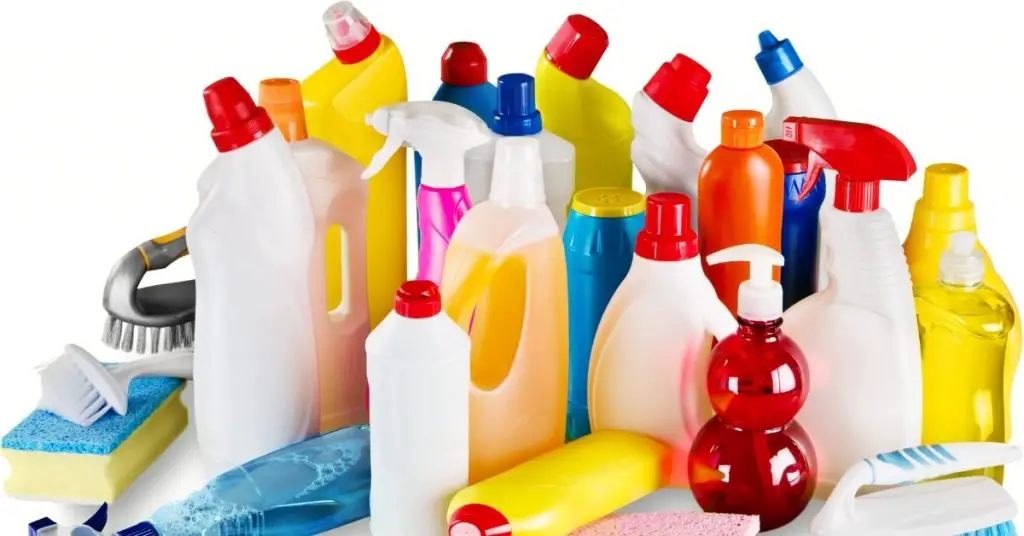 How Can I Reduce My Carbon Footprint?
Buying products that are in powder form or require diluting with water are smaller in volume and can be transported in larger quantities so there's more product per trip. 
Plastic Free Cleaning Products
Plastic pollution used to be an unavoidable problem due to suppliers exclusively using plastic packaging. 
Nowadays it's much easier to find affordable cleaning products that are in recyclable or reusable packaging such as cardboard boxes or glass. 
It's not perfect yet, and it's almost impossible to avoid plastic completely but there are options out there that help to reduce our plastic use. 
Natural Cleaning Products
More commonly, people are reverting back to traditional methods of cleaning that were used before we relied on chemicals. 
Ingredients like vinegar and lemon juice are becoming increasingly popular in our cleaning routines. 
Natural cleaning products contain only natural ingredients which are ideal for people wanting to avoid powerful chemicals. 
These products are also better for the environment as they don't harm the earth or pollute the oceans, by taking centuries to break down. 
Vegan/Animal Testing
Products that are truly vegan or don't use animal testing will have official accreditations on their packaging. 
Look out for the leaping bunny or vegan society logos when shopping for cleaning products. 
This makes it easy to spot whether a brand is truly practising what they preach or if it's just a marketing tactic. 
Brands
Since the rise in consumer awareness and calls for transparency with how products are made and what goes into them, companies began using this trend to their advantage. 
They may label products as eco-friendly when in reality they aren't good for the environment at all. 
Some cleaning products don't disclose their ingredient list, yet can still claim to be sustainable. 
Best Eco-Friendly Cleaning Products in the UK
Now we've gone over the different factors that contribute to how eco-friendly a cleaning product actually is, let's get into the fun stuff!
Here are our Clean and Tidy Living favourites for environmentally conscious cleaning supplies.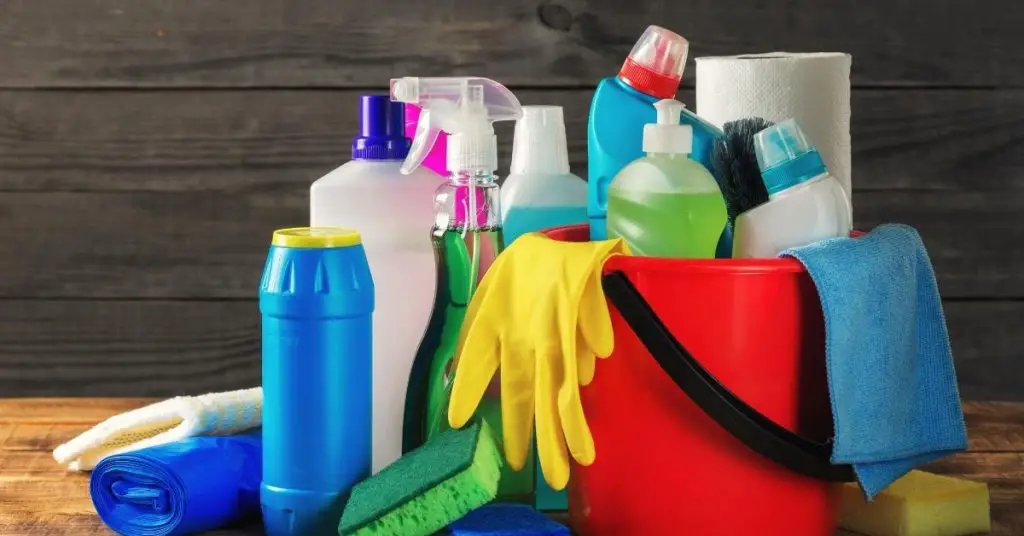 Eco-Friendly Cleaning Products 
Best Smelling Natural Cleaning Products
Method cleaning products not only smell incredible, but they're also:
Biodegradable 
Use plant-based ingredients 
Recycable packaging
Never test on animals
These factors make them a little pricier than an average supermarket cleaning product, but we think the smell alone is worth it. 
Our favourite product from Method is the Wild Rhubard Anti-Bacterial All-Purpose Cleaner.
This all-purpose cleaner has our surfaces shining brighter than ever. 
If it's too pricey as a replacement for your usual sprays, we definitely recommend looking out for when it's on offer.
Some more of our favourite scents and products from Method are:
For more nice-smelling products, check out our article on the best smelling laundry detergents.
Best Refillable Cleaning Products
Faith in Nature Super Concentrated Laundry Liquid
Faith in Nature are a super sustainable company becoming increasingly well known in the UK. 
Most of their products are hair care and hygiene products, but they do have a lovely concentrated laundry liquid that comes in a 5L bottle. 
Who knows, maybe in the future Faith in Nature will increase their product range into the cleaning field! Fingers crossed. 
OceanSaver 3 Pack Cleaning EcoDrops 
We love these clever little dissolvable pods. 
They come in cardboard packaging and their casing is fully dissolvable so there's no plastic.
They have a few different products including an antibacterial solution and a kitchen and a bathroom cleaner. 
We've linked to the pack of each one so you can test each one out before buying three of one of them.
They are highly concentrated and need to be dissolved in water inside a spray bottle like the option below. 
Whether you're making your own homemade natural cleaners or wanting to dilute a concentrated liquid cleaner, these spray bottles are aesthetically pleasing and do the job at hand. 
Top Eco Laundry Products
As well as the Faith in Nature Super Concentrated Laundry Liquid and Method Liquid Detergent Peony Blush listed above, we also love the following products. 
This money-saving, eco-friendly and hypoallergenic alternative to washing detergent uses natural cleaning pellets that contain no harsh chemicals and lasts for 210 washes. 
You don't get more natural than these tree-grown soap nuts. 
If you're looking for more detail on natural laundry products, we have a whole post dedicated to the Best Natural Washing Powders in the UK.
Eco Friendly Cleaning Tools
SonicScrubber Household Electrical Cleaning Brush
Swap harsh chemicals for powerful cleaning with this electric spinning scrubber tool. 
Like how an electric toothbrush cleans our teeth better, this scrubbing tool cleans deeper than any manual tool.   
Because it's such an efficient tool, it requires less cleaning product (and less effort) which means you can do more with just water or a mild soap.
And let's face it, it's much more fun than a normal scrubber. 
Unlike cleaning cloths, dishwashing sponges can't be washed and reused very easily as their texture can wear down and become useless. 
These zero waste dishwashing sponges are a great way to make your washing up routine more sustainable, without compromising on the cleaning quality. 
We aren't fans of the eco silicone dishwashing sponges as they aren't very good at removing food, but these natural sponges do a great job. 
And unlike silicone, these will biodegrade after they're past their best. 
The product says it's for kitchen cleaning but this nifty tool can replace anywhere you'd normally use a scourer or plastic scrubbing brush. 
This natural scrubber is easy to hold, durable and eco-friendly. 
Homemade Cleaning Products
Our favourite multi-purpose natural cleaner requires just four ingredients that will probably already be in your cupboards. 
• ¼ cup or 50ml of white vinegar
• 1 tbsp baking soda
• 4 ¼ cups or 1 litre of hot water
• ½ a lemon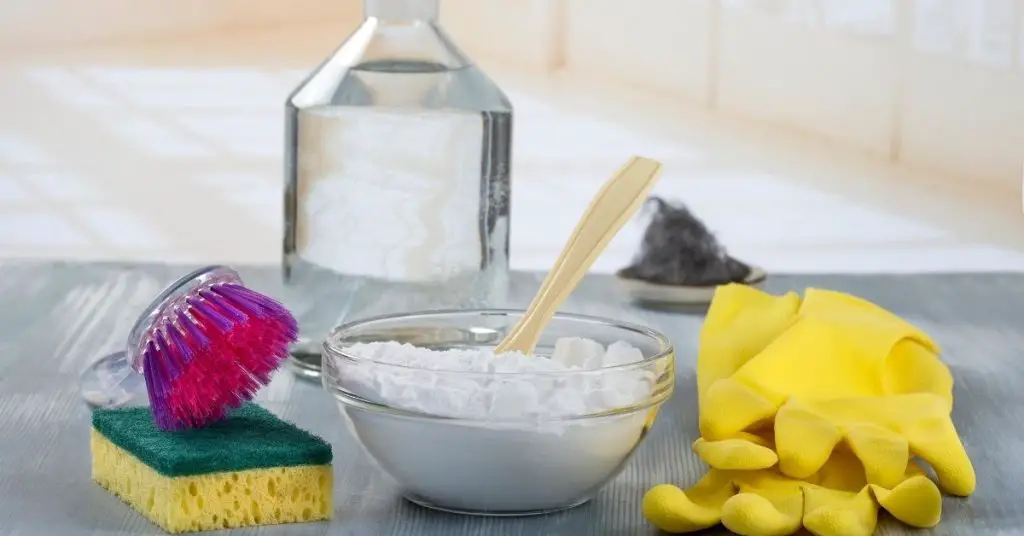 Mix the vinegar, baking soda and lemon juice into a paste making sure all the powder as dissolved. Be careful as the bicarbonate of soda and vinegar will cause a foamy reaction. 
Add your water once the solution is combined and the foaming has settled, then pour into your container. 
Adjust the recipe according to the size of your spray bottle. 
If you don't already have a container then we love these Clear Glass Spray Bottles to store our homemade products. 
This recipe will work for most common cleaning jobs, including kitchens and bathrooms. 
Check out this article for more ideas on how to clean with baking soda.
For more recipes, take a look at this video on making natural cleaning products from natural ingredients.
Best Eco-Friendly Cleaning Products in the UK – Final Thoughts
Whether you were looking for product recommendations or for useful information, we hope this post has been helpful. 
We carefully pick the products we recommend as the best eco-friendly cleaning products in the UK, and try to suit as many user requirements and budgets as best we can. 
Despite all the great products we recommend, the best way to be eco-friendly is to not buy replacements for things that work, or new gadgets you don't need. 
The best thing we can do for the environment is to try and ignore the clever marketing tactics causing us to buy buy buy, and be more aware that what we already have is perfectly fine. 
Related Cleaning Articles:
Top Eco-Friendly Cleaning Products in the UK