Natural and Plant-Based UK Laundry Detergent
If you prefer using a powder to liquid detergent and are looking to find the top eco-friendly products on the market, then you're in the right place. To help provide a source of reliable and practical information, we've put together a list of our top favourites for the Best Natural Washing Powder in the UK.
Washing powders are beginning to lose their popularity in the mass-markets but still remain a firm favourite in laundry routines around the country.
There is a lot to consider when trying to find a sustainable cleaning product, due to the overwhelming amount of products and information on the internet.
Here at Clean and Tidy Living, we like to do the research for you so you can make an informed decision from one single source.
But we won't stop there! In this post we will be covering:
What natural washing powder is 
How to choose one
Whether powder or liquid is more eco-friendly
Is washing powder bad for the environment
Top natural UK washing powder
How to use washing powder
Well, with all that being said, we'd better get started! 
If you're after a quick answer, here are our top 4 sustainable washing powders:
1. Ecover Non-Bio Washing Powder
2. Ecover Biological Concentrated Washing Powder 
3. Distinctive Biological Masculine Fragranced Detergent
4. Ecozone Soap nuts
We'll go into detail later on about our thoughts and details about these products. 
What Is Natural Washing Powder?
Washing powder is a powdered form of detergent soap, containing surfactants and other ingredients required to separate dirt from the fabric. 
Natural washing powder is still a powdered soap, but with plant-based alternatives to the harsh chemical ingredients found in the un-natural detergents.
When choosing a natural and eco-friendly washing powder, there are different factors that need to be considered to ensure a product is actually green and not just advertised as so.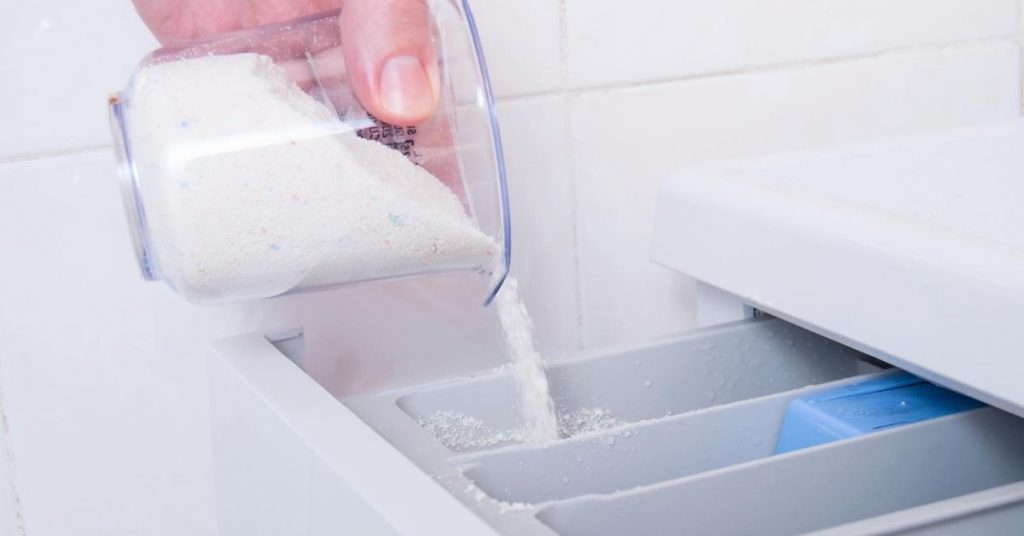 Factors to Consider
Carbon Footprint
If a product has been shipped, or flown, across the globe to get to you then the carbon footprint can be very high. This could even off-set the benefits of buying and using a natural detergent.
Try and find a washing powder made and produced in the UK (or wherever you live).
Concentration 
A highly concentrated product is much better for the environment for two reasons. Firstly you are using less of the product itself so it lasts longer, and also because it takes up less space and therefore requires less packaging. 
Some brands may actually water down their products so they have to be bought more regularly.
Packaging
The material used on your detergent will usually reflect what's inside. Liquids generally require a plastic container to keep costs down, apart from the wonderful Seventh Generation Liquid Detergent that comes in a recyclable cardboard bottle. 
Powders tend to have a better eco-footprint for their packaging because they can be stored in boxes or even paper bags. 
Lasting Effect on the Environment
The enzymes in biological laundry products can take a while to break down in the environment. It's worth considering non-biological washing powders for a more eco-friendly clean, however, they might require a higher temperature wash cycle than bio powders. 
Take a look at our post on the difference between bio and non-bio laundry detergents for more information.
Ingredients
There are all sorts of chemicals in laundry products that can be harmful to the environment and to us. 
If you're looking for truly natural washing powder, keep an eye out for the following chemical ingredients:
Bleach
Phosphates
Palm Oil
Parabens
Sodium Lauryl Sulphate
Enzymes
We list more chemicals and describe what their role is in laundry detergent in our post Best Smelling Laundry Detergent In the UK.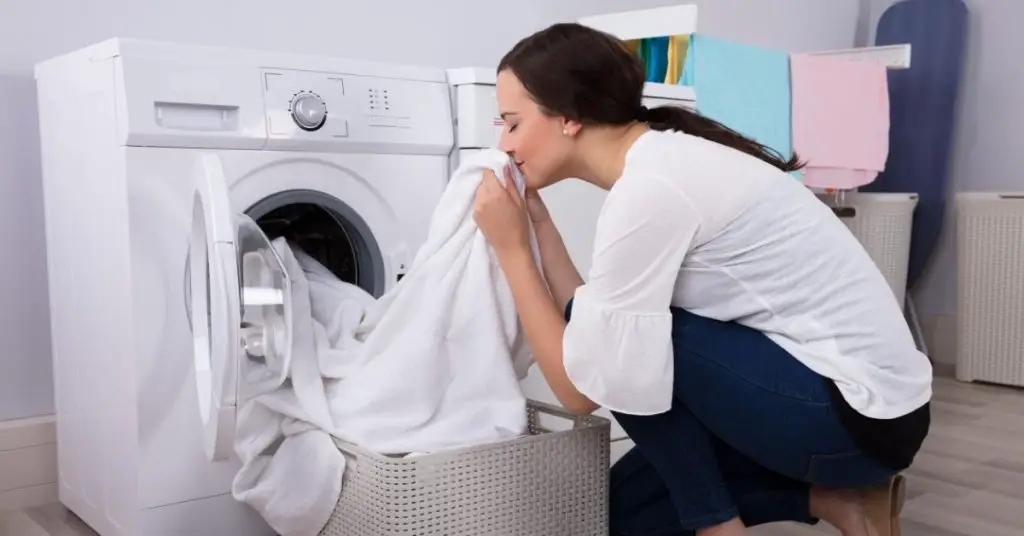 Which Is More Eco-Friendly Washing Powder or Liquid?
Powders can easily be bought in bulk which cuts down on packaging and prolongs the shelf life of detergents. 
However, the powder residue can build up in your machine and on fabrics which may require more rinse cycles and therefore more water.
Liquids can be more versatile and concentrated, however, they take a lot more resources to produce. Including massive amounts of water. 
It's a waste of water and energy to produce liquid detergents, which can be as much as 80% water. Also, all of this water is being shipped, flown and driven across the world which is an unnecessary carbon impact.
Liquids and capsules are prone to being over-used whereas powders can be scooped to match the load size.
The verdict? Go with powder.
Is Washing Powder Bad for the Environment?
By using smaller doses you can reduce the amount of powder build-up on your clothes, and if it gets bad you can use a vinegar wash to break down the residue. 
The best possible eco detergent would be a washing powder that can be used with cold water. A lot of modern eco-brands are great for this. 
However, if you can't bear to lose the liquid, try shopping from eco brands like Ecover and Method and buy products that are double or even triple concentrated. These will use the least water and packaging.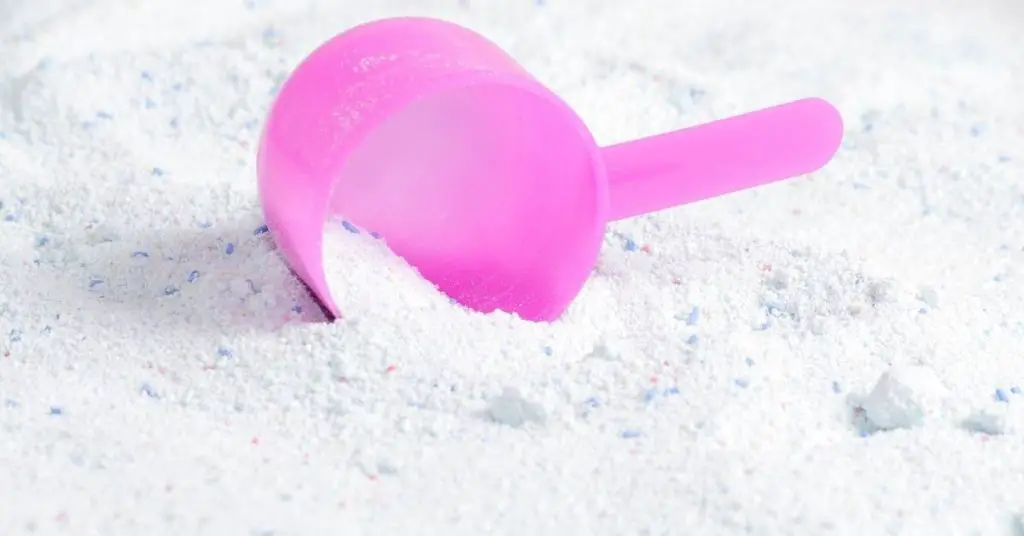 Top Natural Washing Powder in the UK
The natural ingredients in these washing powders mean that they tend to be fragrance-free or have very mild fragrances. We recommend the following Ecover laundry detergents which come in a range of beautiful scents. 
Product Description: For brilliant results on all your white and colourfast laundry, Ecover non-bio washing powder is ideal for the whole family. It tackles a whole variety of stains, even at 30 degree Celsius, whilst respecting your family's skin.
Due to the natural ingredients in organic laundry detergent, your clothes won't be left with that typical fresh laundry smell that comes from the chemicals. If you find that you're missing the strong fragrance of clean clothes, Ecover has a range of natural fabric softeners with beautiful scents you can add to your wash. (Listed above.)
This detergent is great for allergies and people with easily-irritated skin. The non-bio formula contains no enzymes which can be harmful on sensitive skin. 
Product Description: An ecological biological washing powder for whites and colourfast laundry. It has a mild lavender fragrance and contains enzymes for the better removal of grease and protein stains. Gives beautiful fresh laundry without ingredients like optical brighteners and phosphates.
The presence of enzymes in this ecover laundry detergent means that it's not suitable for babies or people with sensitive and easily irritated skin. However, this detergent will work on a deeper level to get out the fatty residues that are difficult to remove with a non-bio formula. 
A lavender scent is mild but pleasant, and if it's not strong enough then Ecover has a lovely range of natural fabric conditioners that can be used in addition to their detergents.  (Listed above.)
Product Description: This product used biodegradable surfactants that will clean your clothes without harming the environment. 
This was the first fragrance launched by Distinctive who were the worlds first company to provide a masculine fragrance in the laundry category. The fragrance is an upmarket blend of sandalwood and amber amongst other secret ingredients to create a soft and sensual masculine fragrance that is loved by men and women. 
This huge 10kg bag will last you between 166 and 249 Washes. Long-term users suggest that a little goes a long way with this product, so you might find this big bag lasting you even longer than suggested.
4. Ecozone Soap Nuts – Best Natural Washing Powder Alternative 
Okay, these aren't technically a washing powder but we just couldn't leave them out in an eco laundry article. 
If you're looking for a truly chemical free washing powder than soap nuts are definitely worth considering.
Naturally sourced, non-toxic, allergy-free laundry detergent
1 Kilo lasts for 330 washes 
Vegan, Hypo-allergenic, Organic.
Totally Biodegradable.
Works in all types of washing machines
These clever little things have been used for thousands of years as a natural washing detergent. Also known as Soap Berries the Soap Nuts grow on trees of the Sapindus Genus and are a source of Saponin, a natural soap which cleans and freshens your clothes.
If you're hunting for a washing powder without chemicals then you can't get more organic than soap nuts.
How to use: Put the equivalent of 5 nuts into the included cloth bag (they tend to be in halves mostly) and it lasts approximately 3-5 washes.
The nuts don't have a 'fresh-laundry' fragrance so you won't get that nice chemical smell when they come out of the wash, but they are nice and clean. We've left a list of Ecover fabric conditioners at the top of our recommendations fo you find you're missing a stronger laundry scent. 
You may find you still need a more powerful detergent for incredibly soiled clothes but you might find the soap nuts to be enough. 
How to Use Washing Powder
Check the dosing instructions on the packaging and adjust to fit your load size.
Use the provided scoop to measure out the amount required
If you're using a top-loader washing machine, add the powder directly into the drum before adding your fabrics
If using a front loader, add the washing powder into the drawer. Make sure the drawer is dry so that your powder doesn't clump and get stuck.
Once you've added the detergent, put your clothes, towels or bedding into the washing machine as usual
Choose the cycle based on the washing machine manufacturers instructions
Where Do You Put Washing Powder?
Front Loading 
For a front-loader washing machine, add your washing powder and fabric conditioner to their designated compartments in the drawer. Make sure your drawer is dry before adding the powder so your powder doesn't get clumped and stuck.
Top Loading
For a top loader or semi-automatic washing machine, add the powder directly into the drum before adding your fabrics. Don't leave them in contact with the powder for too long as the strong chemicals can bleach fabrics. 
How Many Scoops of Washing Powder Should I Use?
This depends on your load size and the concentration of the washing powder. Follow the guidelines on your washing machine for large loads but usually, manufacturers will suggest more than is actually required so you have to buy the product again. 
We recommend starting with the recommended amount and reducing the quantity until your satisfied with the level of clean and amount being used each time.  
Is it Better to Put Washing Powder in the Drum?
Putting washing powder directly in the drum does save your washing machine drawer from becoming gunky with product build-up.
However, you might find your clothes aren't getting the same quality of clean from your washing powder being dispersed throughout the cycle rather than right at the beginning. 
It's a time-saver, but might bleach your clothes if the dry powder is in contact with fabrics for too long.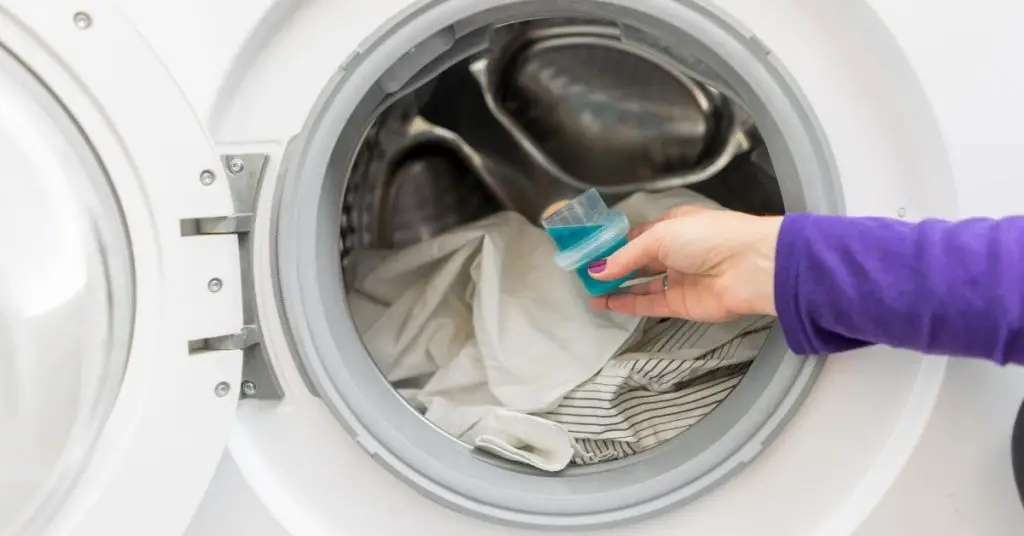 Which Washing Powder is Best for Eczema?
Any non-bio washing powder will be better for eczema-prone skin than a biological detergent, as well as organic washing powder being better than a chemical-based one. 
Some non-bio detergents may include artificial fragrances or bleaches that can also irritate the skin. 
We recommend Ecover Zero Non-Bio Laundry Powder as the best organic laundry detergent for sensitive skin, which has zero fragrance. Ecover always lists their full ingredients so there are no hidden chemicals. 
The Best Natural Washing Powder in the UK – Final Thoughts
Natural powder-detergents definitely have a smaller product range than natural liquid detergents. We were surprised that plant-based powders aren't more popular as they save a lot of water and weight being transported. 
It seems a common theme with natural laundry detergent powder that they have mild or no fragrance. Luckily, there is a great range of natural fabric conditioners and softeners for those of us who can't live without fresh-laundry smelling clothing. 
Despite this, we've seen that there are loads of great botanical detergents out there. We hope our recommendations and advice have been beneficial in helping you find the best natural washing powder in the UK.
Here at Clean and Tidy Living we always try to provide a range of brands and product variety as there's no one size fits all for cleaning products. 
Whether you're looking for a zero-scent non-bio powder for sensitive skin or a strongly-fragranced biological powder that's still natural with no compromise on the perfume then we hope you've found something that works for you. 
Related Laundry Articles:
Best Natural Laundry Powder