The Top Fragranced Washing Detergents in the UK
Nothing beats the smell of fresh, fragrant laundry. 
In the same breath, there's nothing worse than opening a brand new product and realising you don't like the smell. 
How our clothes smell is so important. When you don't like their scent, you're reminded of it constantly and will probably end up throwing the product away.
This is literally throwing money down the drain. But what other choice is there?
Well, you can save your pennies and leave the work to Clean and Tidy Living! 
We've done our research to help you find the best smelling laundry detergent in the UK.
However, what might smell delightful to one person can be way too sickly for another. 
So we've categorised our top smellers by their scent profile so you can pick what works for you! 
And we haven't stopped there. To help you make an even more informed decision, we've put together an ultimate detergent buyers guide so you know exactly what to look for when making your next laundry purchase. 
Clean and Tidy Living UK Leading Scented Laundry Products
We've searched through a bunch of UK laundry detergent brands and looked at their offerings, to find the best smelling, as well as trawling through forums to find what people are recommending.
Here are the results of what we've found. We've also provided information on their scent, whether they are specialised products and how many washes you can get out of them.
Best Smelling Laundry Detergent UK – Thoughts and Descriptions
Bold describes this sent as, "A relaxing and lingering scent, that's Bold Lavender and Camomile. Imagine strolling through fragrant lavender fields, leaving all cares behind. This classic scent blends soothing camomile and honey with woody notes for a total feeling of serenity. Breathe in the blissful notes and … relax."
Although it's unlikely you'll be transported to a lavender field, we do agree that the scent is relaxing. Prices may vary but generally, this is a good value product that gives you 108 washes, which will last most households a good few months. 
Older reviews of this product noted that the scent was a bit overpowering and would fill their house. It seems that Bold have adjusted this formula to be slightly milder and more pleasant but still long-lasting on clothes and fabrics. 
What we love:
Bulk pack
Popular smell
Built-in fabric softener 
Long-lasting scent
Providing over 100 washes, this concentrated liquid is the perfect choice for non-bio, fresh-scented liquid detergent. 
The non-biological formula makes this product suitable for somebody with sensitive skin, without compromising on that fresh laundry smell. This detergent has also been dermatologically tested and awarded the British Allergy Foundation Seal of Approval.
An added bonus to this product is specific whiteness technologies that keep your whites white for longer.
We recommend holding onto a smaller laundry detergent bottle and decanting from the larger bottle every now and again. The 5L bottle is great for value but can be heavy and difficult to manoeuvre. 
What we love:
Whitening agents
Dermatologically tested
Value for money 
Clean cotton scent
Although possibly a deterrent for some people, the natural formula of this detergent means that once clothes are dry there is no strong 'fresh laundry' smell that usually comes from chemicals. To combat this you could use a strong-smelling fabric conditioner alongside this detergent. 
Similarly, the lack of UV ray reflecting whitening agents in this product means you won't get that blinding brightness in the sunshine. 
These factors are all due to the strictly natural formulas used by Faith In Nature. It's definitely not a bad thing, but worth considering whether you'll miss the extra benefits that come from chemicals.
The great thing about liquid detergents is you can adjust the amount required depending on load size. The bottle states that 150 washes can be done, which is a crazy value for the 5L bottle. 
This detergent can double up for stain removal. Simply rub a small amount directly onto the stain, then wash immediately.
What we love:
Cold-wash compatible
No parabens, bleach, or enzymes
Great value for money 
No strong smell
If the fun and colourful bottle aren't enough to tempt you, then the fresh scents of wild poppy and violet definitely will.
This product has a lovely sweet smell that lasts without compromising on the effective colour care. 
Although designed for colours, the Surf Vibrant Colour also works great on whites.
For the best results, use 35ml Surf liquid for standard loads (4-5kg) and soft/medium water. Use 52ml for larger or dirtier loads, and hard water.
What we love:
Multi-pack
Keeps colours bright
Strong smelling
Cold wash compatible
Effective cleaning power in one easy pod. No need to measure out different powders and liquids, simply throw one capsule in with your clothes and away you go. 
These capsules have a unique multi-compartment design that keeps the ingredients stable and separate until they reach the wash, providing a super concentrated cleaning power. 
This ariel product contains brightening agents to make colours and whites stand out. 
The fresh and clean smell of this detergent is perfect for people who don't like floral or fruity scents in their laundry. Clothes are left smelling great but with no perfumey scent. 
What we love:
Multi-pack
Keeps colours bright
Strong smelling
Easy to use
Surf Tropical Lily & Ylang-Ylang is a gorgeous combination of two of nature's most exotic and enticing flowers. Despite its floral mix, the exotic flowers give a lovely tropical scent to laundry that lasts all day. 
If you're all about the smell, then this detergent is definitely a winner. 
This biological detergent contains enzymes that will work to breakdown stains, fat and grease. 
Surf liquid is suitable for cold washes. It delivers excellent fragrance and brilliant cleaning, and can also be used for pre-treating. For the best results, use 35ml Surf liquid for standard loads (4-5kg) and soft/medium water. Use 52ml for larger or dirtier loads, and hard water.
What we love:
Suitable for cold washes
Keeps colours bright
Strong smelling
Easy to use
When you wash at temperatures below 60 degrees Celsius, bacteria can survive and can be transmitted between garments in the wash. When used alongside your normal detergent, this liquid additive kills 99.9% of bacteria, even at 20 degrees. Its fresh cotton scent is an added bonus to the guarantee of clean clothes. 
Antibacterial additions to your normal laundry routine are great for pet beds and blankets, sportswear and items that have built up a bad smell over time like towels and bath mats.
Reviews from long term users also commented on how well their washing machines have been kept clean after using this product. A great added bonus!
What we love:
Antibacterial
Fresh cotton smell
Suitable for all fabrics
Multi-pack
This natural based laundry detergent has scents of orange blossom & citrus leaves. The smell is derived from 95% of botanical based ingredients as opposed to chemicals in most laundry products. If you're looking for a more natural fragrance, then this is a great choice.
The formula removes the most difficult of stains even in cold water, whilst leaving your clothes fresh and clean. Certified by Ecolabel and made for sensitive skin, leaving no abrasive chemicals on your clothes which can damage your skin.
Despite the scent being made from natural essences, it is a powerful smell that lasts for ages. This isn't for everyone, but some people love a strong-smelling detergent that lasts between washes. 
What we love:
Natural ingredients
Recycled packaging
Strong, long-lasting smell
Suitable for sensitive skin
Here at Clean and Tidy Living, we love the scent and performance of Method cleaning products, and this detergent is no exception. This fresh and floral scent is to die for, and we love the packaging it comes in. 
This product cleans well for normal dirt and stains but hard-wearing grease may require some extra stain-removing products. 
As with most natural products, the smell isn't as strong as chemical formula detergents. You might find with soft water the smell is a perfect strength, but harder water areas may need an additional fabric softener to enhance the fragrance. 
What we love:
Natural ingredients
Pretty packaging
Strong, long-lasting smell
Suitable for colours and whites
All the benefits of Ariel All In One Pods with the added bonus of Lenor Freshness. Lenor are one of the top contenders for fabric conditioners, and the addition of their product in this easy capsule is an extra scent win.
Capsules are great time-savers as they eradicate the need to mess around with multiple products. However, they don't allow the adjustment of product amounts for smaller and larger load sizes. 
This makes it slightly less value for money than pourable liquid detergents. 
What we love:
Natural ingredients
Pretty packaging
Great long-lasting smell
Suitable for colours and whites
Buyers Guide to Laundry Detergent
Instead of relying purely on what the companies are telling you their products do, it's always better to learn how to decide for ourselves. 
There are many factors that go into creating an effective and nice-smelling cleaning product. Especially because of the chemicals required to clean clothes properly. If you're looking for a natural washing powder, have a read of our post.
For more buying advice, check out our guide to the best vacuum cleaners under £200 in the UK.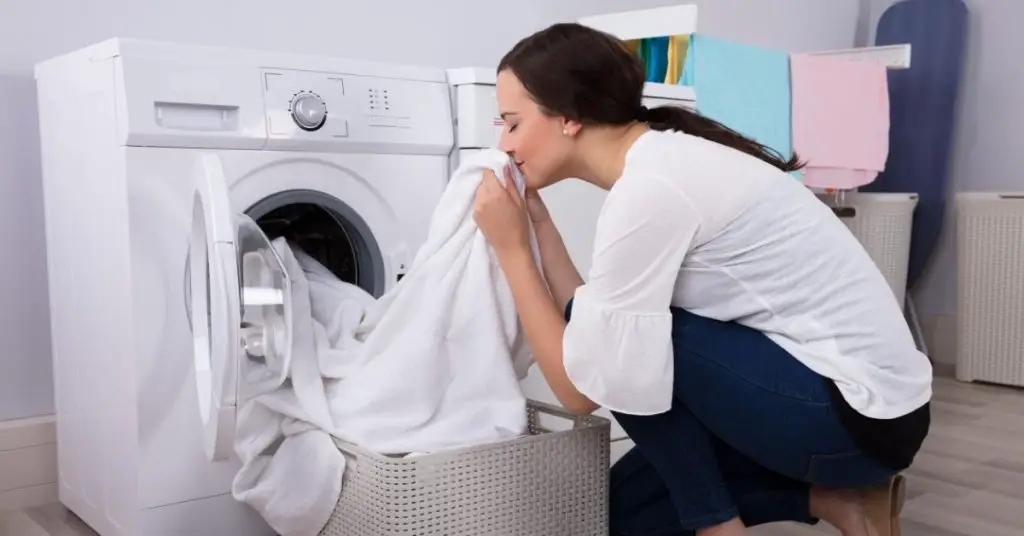 How To Choose The Best Smelling Washing Detergent?
The key factors to consider when choosing the best smelling laundry products are the formula, bio or non-bio, and of course the scent. 
Top Tip: Divide the price of the product by the number of wash loads to get a price per wash. Compare this for each of your your favourite products to find the best value for money.
Key Factors of Laundry Detergents
Formula of Detergents
These are some of the ingredients you might see listed on your laundry soaps and conditioners. We've given a very brief overview of what they do so you can make an informed decision when picking your new detergent. 
1. Surfactants  
These are the soaps actually doing the cleaning work in your detergent.
Usually Sodium or Ammonium Lauryl Sulfate but can be other chemicals. 
2. Builders
Acids that bind calcium to stop the formation of soap scum. Ideal for hard water areas. 
Usually citric or boric acid. 
3. Bleachers
Remove the stains surfactants can't get to, like non-fatty food dye. Usually sodium perborate.
4. Whitening Agents
Agents that reflect UV rays making clothes appear brighter to our eyes. Also known as 'optical brighteners'. Probably will be sulfonated diamino-stilbenes or Distyrylbiphenyl.
5. Fabric Softeners
An anti-static ingredient that makes clothes feel softer and conditioned. Usually Eesterquats.
6. Enzymes
Present in biological detergents to break down fatty stains. Mostly Proteases, Lipases and Amylases.
7. Stiffeners
Work to stiffen clothes that require stiffening like shirts. Usually starch or Polyvinyl acetates.
8. Fragrances
The chemical that adds a pleasant smell to detergents is usually Butylphenyl methylpropional.
9. Soil Repellants
Carboxymethyl cellulose cleverly binds to the tiny fibres to stop dirt from re-attaching. 
10. Foam Regulators
Dimethylsiloxane reduces the quantity of foam in the washing process.
11. Dye-Transfer Inhibitors
The active ingredient in detergents for coloured clothes to stop dye transfer is Polyvinylpyrrolidone.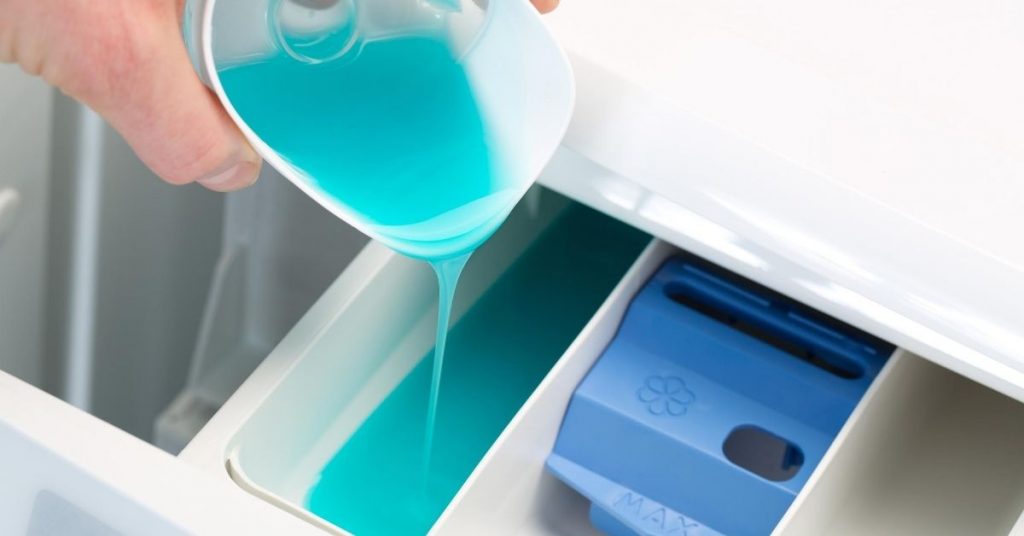 Scent of Laundry Detergent
There are loads of different fragrances to choose from when it comes to laundry. Brands will use new product ranges to try and attract buyers to select their products over someone else.
Although this means more yummy scents for us to try, it can make it difficult to know what to pick. 
Despite all the complicated product names of 'oriental lychee and blossomed bergamot', scents will all tend to fit under some broad categories. 
Think about what scents you enjoy in fabric from the following categories and find the products that fit:
Citrus
Clean Cotton (often includes 'Spring' in the name)
Floral
Tropical
Earthy 
Fruity
Unscented
Bio or Non-Bio Washing Detergent
Bio detergents are much better at breaking down oil and grease, which is what tends to linger on clothes after the wash.
If you use a non-bio detergent and find smells aren't completed removed from washing, you may need to look into using a strong soap formula. For a natural solution, try spraying stinkier areas (crotch, underarms) with vinegar before a wash and then using your normal cycle.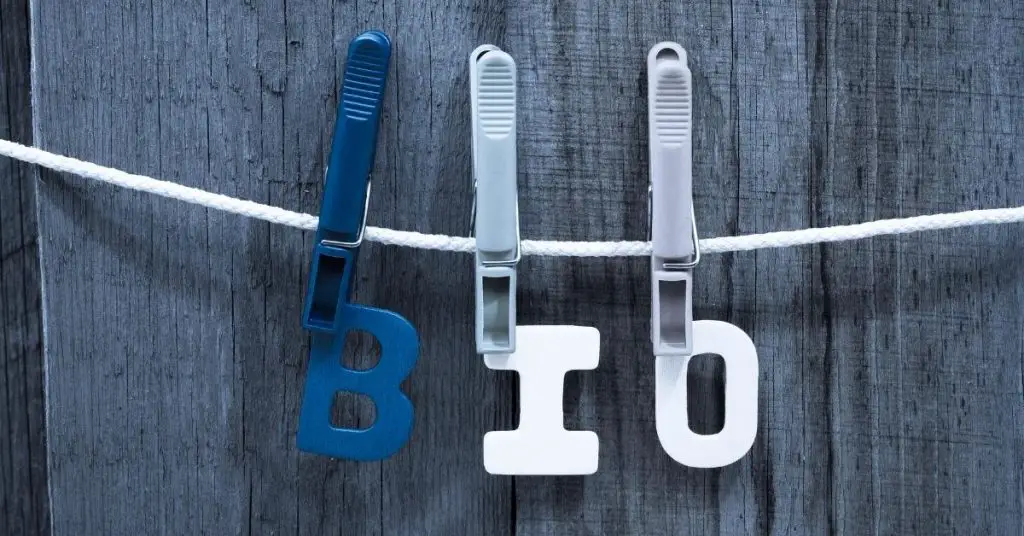 What's the Difference Between Bio and Non-Bio?
Biological detergent contains enzymes that cause a chemical reaction when breaking down dirt. Non-biological detergents are better for sensitive skin as the enzymes in bio soap can be irritating. 
For an in-depth explanation on Bio vs. Non-Bio, & when to use them, check out our post The Ultimate Guide To The Difference Between Bio And Non-Bio.
How Do I Get My Laundry to Smell Good?
If you already have a powerfully scented laundry detergent and it's just not doing a good enough job, take a look at your other products and see if they can be switched out. 
Fabric softeners tend to have a more concentrated fragrance, so using one alongside the cleaning power of your detergent can help to boost that fresh laundry smell. 
One cause of weak-smelling fragrance could be load size. Washing machines do a better job when they aren't entirely full, as the products can properly disperse and get into all the fabrics. 
Make sure you're accounting for whether you're in a hard or soft water area. Harder water may require more softener or conditioner to break down the calcium in your washing machine and provide a better overall cleaning process. 
If you're happy with your products and know you've got everything perfect and STILL aren't getting the smell strength you want, check out some of these extra tips.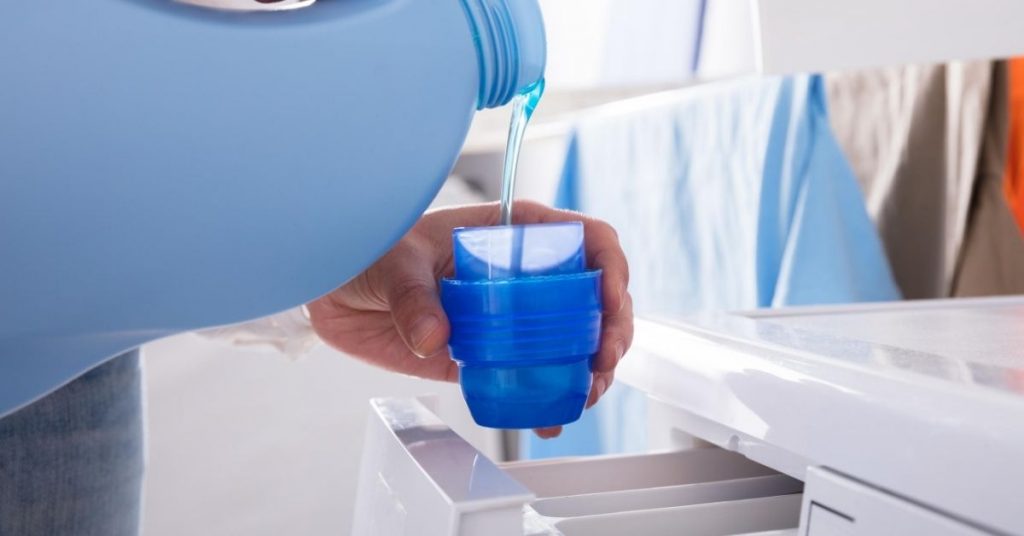 Extra Tips for the Best Smelling Laundry 
Keep a Clean Washing Machine
Regularly cleaning your washing machine can prolong the life of the appliance which saves you money on repairs and replacements. 
A more noticeable benefit will be the smell of your clothes. Do you ever open the washing machine door and get hit with a waft of damp and mildew? 
Bad smells can build up over time due to improper ventilation and can even lead to black mould. 
Clean out every removable compartment, disinfect surfaces and use a cloth to get inside the rubber seal where water and grime get built up. 
Using an antibacterial additive in your laundry like Dettol Antibacterial Laundry Cleanser disinfects clothes but also cleans your washing machine from the inside out. 
Scent Boosters
As a luxury addition to your detergent and softener, scent boosters can add an extra level of perfumed goodness to your fabrics. 
They're not a necessity, but if you love that fresh laundry smell its a self-care practice we absolutely support. 
Here are our favourites:
Vinegar
It might sound counterproductive to add something typically foul-smelling in hopes of making things smell more beautiful. 
Vinegar is an excellent way of breaking down caked-on grime and oils that aren't coming out in the wash. 
Either spray vinegar onto problem areas before a wash, or for larger items like towels you can do a wash with vinegar in place of detergent, before completing a cycle with your regular laundry products. 
Adding a small amount of white vinegar to your wash can also help to brighten whites.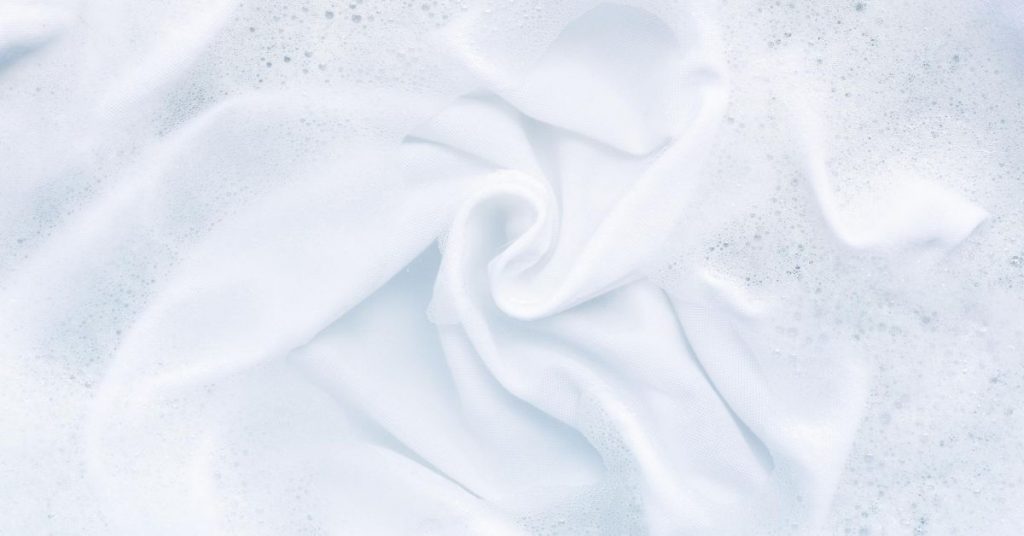 Best Smelling Laundry Detergent UK – Final Thoughts
This post has covered a lot of different products and how to choose the right one for you. 
One key takeaway should be that there's no one size fits all best smelling laundry detergent in the UK. 
We all have different tastes for perfume and it's no different for fragrances in our laundry detergent. 
There are many more factors to consider than just the scent, such as whether it's suitable for sensitive skin, colours or contains natural ingredients. 
Whether you have a baby at home so need a non-bio detergent, are looking to use natural ingredients, or want the most potent smell possible, we try to cater for everybody. 
At Clean and Tidy Living, we like to provide a range of products that suit many different needs. We hope that in our recommendations you can find a product that's perfect for you, with the added confidence that it's a high-quality item. 
Related Laundry and Washing Articles:
Best Smelling Laundry Detergent