Our Must-Read Tips For Keeping Your House Clean and Tidy
Keeping the house tidy and clean seems like an unachievable goal. 
It's like climbing up a mountain but as soon as you're in arms reach of the top, something goes wrong and you fall right back down to the bottom again. 
Those 'things going wrong' in our lovely metaphor can come in the form of a pet, children, or just having no energy at the end of a long day. 
And if we're honest, we completely understand. 
Unfortunately, we aren't here to tell you a magic secret that will fix all of your cleaning and organisation problems. 
But, we are here to offer advice on how to keep your house clean and tidy, in the form of 13 helpful tips. 
It's one thing to achieve a perfectly clean and tidy house, but actually maintaining it is a whole other ball game. 
It feels like an endless battle that takes an inhumane amount of strength and determination. 
So, keep reading to find out our top tips for keeping a neat and tidy home and finding the motivation to start.
Or, if you're just here to procrastinate from doing the dirty work, then that's fine too.
How To Keep Your House Clean and Tidy 
We've split our tips into the following categories for easy scrolling and so you can focus on the areas that are relevant to you.
The categories are:
Tips for Keeping the House Tidy and Clean
How to Keep the Kitchen Clean and Tidy
How to Be a Clean and Tidy Person 
Tips for Keeping the House Organised and Clean
These tips are general advice that can be applied to every room and area in the house. 
We've selected tips that are reasonable and applicable to most of our everyday lives, as we know that time is a limited resource in today's world.
1. Storage is Your Friend
The great thing about storage is that it takes messes and makes them invisible. 
Although it's nice to have neatly organised storage, it doesn't really matter if it's messy. 
By keeping your clutter packed away in storage boxes or cupboards, you can keep floors and surfaces tidy and easy to clean. 
For more storage and organisation tips, you might enjoy The Best Storage & Organisation Essentials You Need At Home.
We are particularly big fans of big storage benches or window seats that you can chuck all the shoes or toys in at the end of the day to produce a magically clear floor.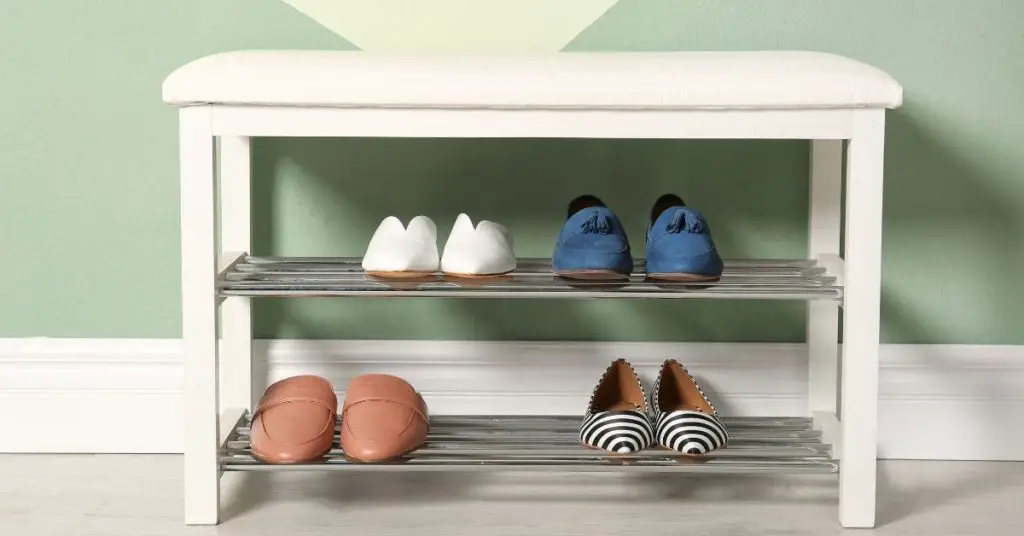 And of course, if you do want to have perfectly organised Mrs. Hinch style storage instead of a place to chuck your mess, there are plenty of storage organisers out there.
Buying cheap tubs or boxes and drawer dividers help massively with keeping things neat.
2. Declutter, Donate and Resell
It's much easier to keep the house clean and tidy when there are less unnecessary bits and bobs scattered all over the place. 
If you're constantly battling with where to put things and feel like your cupboards are leaking a trail of possessions, then it's probably time for a declutter. 
There are loads of ways to declutter, so it's about finding the right method for you. 
One end of the scale is minimalism where you only keep what you need. 
Another method is letting go of items you haven't touched for over a year. 
We recommend trying out a couple of different methods for decluttering before committing to a big clear out. 
But we can guarantee that once you've said goodbye to all the unloved items taking up room, you will feel a weight off your shoulder.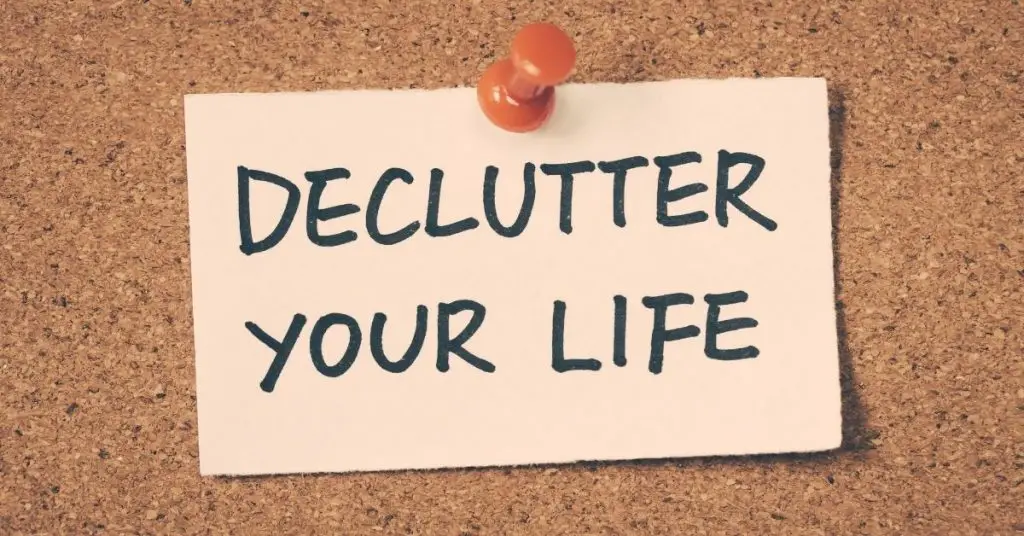 Anything that's resellable can go onto sites like eBay, Depop and vinted to earn some extra pocket money, or donated to local charities.
And another huge bonus is when there are fewer things to clean and put away, it takes less time! 
Read more about decluttering and our three-step declutter strategy in our article: How To Quickly Declutter Your Home & Keep It Clutter-Free.
3. Clean Little and Often 
If you're the sort of person that would rather walk 2000 steps 5 times a day, than tackle the 10,000 in one go, then you'll probably benefit from cleaning in small bursts. 
Cleaning little and often simply means that you are regularly cleaning in short spurts, so nothing ever gets that bad. 
Take the oven for example. 
Some of us will wait months before tackling one of the worst cleaning jobs in the home. At which point the food is well and truly stuck on. 
Instead of letting things get to a stage where it requires an entire afternoon's work, clean it out once a week with a warm sponge and degreasing spray. 
It's much easier to motivate yourself to wipe down some crumbs and a bit of burnt cheese, than to scrub down baking trays after soaking them overnight in ammonia.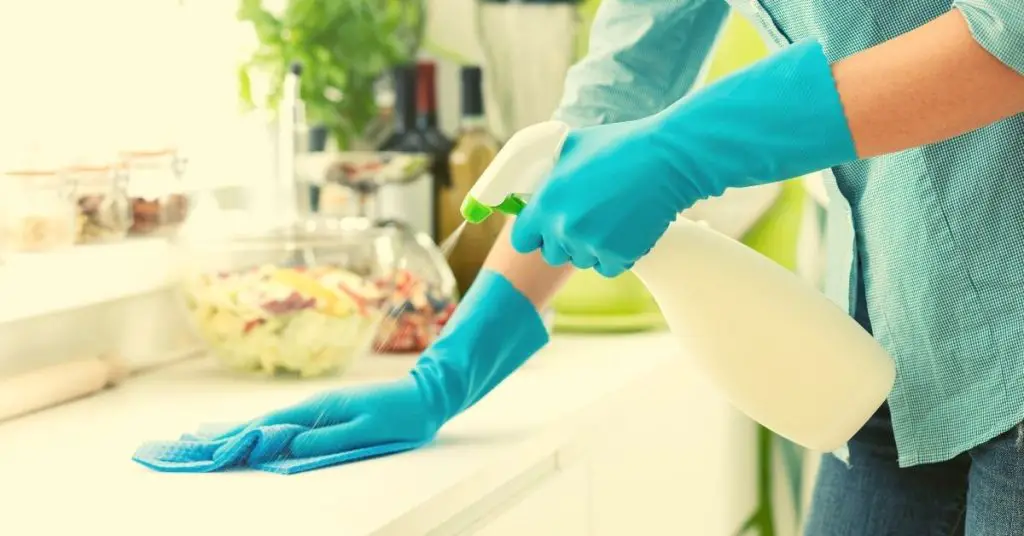 For general household cleaning, dedicating fifteen minutes to half an hour each day for your usual cleaning tasks like vacuuming and dusting is much more manageable than a 3 hour deep clean in one evening. 
4. Rewire Your Brain to Enjoy Cleaning 
Use the time you're cleaning to listen to your favourite music, audiobooks or podcasts. 
Not only will you be enjoying yourself more because you're having fun, but your brain will release dopamine and trick itself into thinking it's something you enjoy.
When your brain thinks you will get dopamine from an activity, it doesn't seem so daunting to get started. 
The hardest bit is always getting started. 
Once that mental barrier is gone, it's much easier to convince yourself to do it and just get the job done.
You could also use a reward system by allowing yourself a treat after the cleaning is done, so you're more motivated to do it.
Top Tip: Follow people on Instagram who make cleaning enjoyable and fun, such as Mrs. Hinch. We love to watch her recommended products and amazing cleaning hacks for new ideas!
5. Prioritise Tasks 
Instead of seeing cleaning the house as literally cleaning the WHOLE house, have a think about where the high traffic areas are. 
In every home, there will be certain spaces that are walked on and used way more than others. 
Typically these will be the kitchen, bathrooms, entryways and bedroom floors. 
By working out which spaces are most-used and which surfaces are being touched regularly, you can focus most of your effort on these zones. 
Lower-traffic areas in the home can be cleaned a lot less, and zero-traffic surfaces hardly at all.
Where nothing touches, the only dirt building up is dust so there's no need to disinfect these surfaces or mop floors that only require vacuuming or sweeping.
One effective method is to split your household chores into high, medium and low traffic zones and assign them a frequency for cleaning out of daily, weekly or monthly. 
If time is your struggle, take a read of our ultimate list of Time Saver Tips And Best Time Saving Habits.
How to Keep the Kitchen Clean and Tidy
The kitchen is commonly the biggest disaster zone, due to the frequent traffic and mess that builds up throughout the day. 
These tips will hopefully offer some cleaning hacks that you haven't thought of before, to help with keeping the kitchen looking its best. 
Related:
6. Race Against the Clock  
For those competitive souls, this cleaning method can work extremely well to get things done quickly. 
The premise is simple, anything with a countdown timer becomes your competitor, and you have to get as much as possible done before time runs out.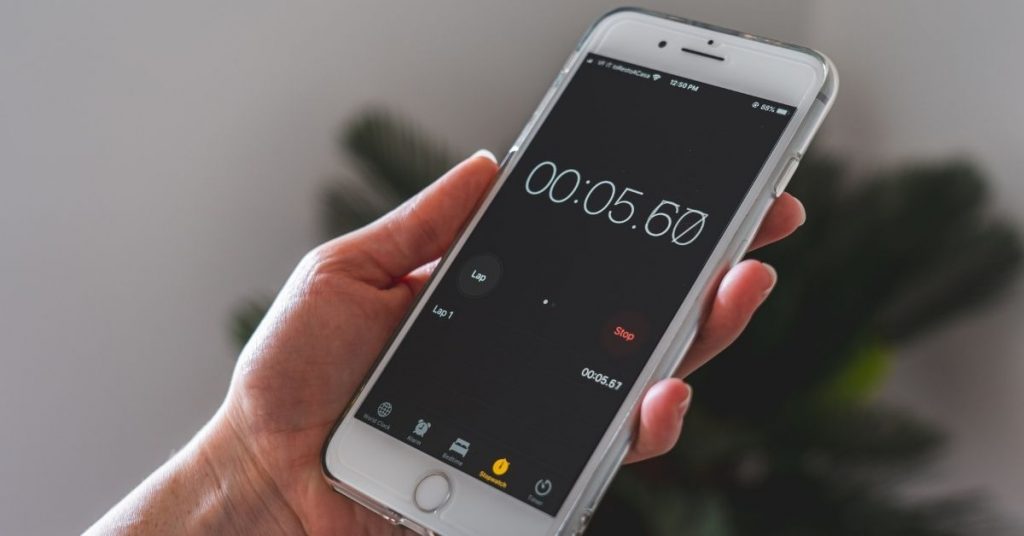 On a busy morning, your opponent could be the microwave, kettle or toaster.
When you have more time, try racing against the washing machine, tumble dryer or oven and see how much you can achieve before the alarm goes off. 
Instead of just wandering around lazily with a duster, you become a gladiator of cleaning.
You'll find yourself whizzing around with a vacuum in one hand and Dettol in the other, leaving a trail of perfection in your path. 
This is one of our most favourite cleaning hacks. 
We talk about this more in our posts Top 21 Time Saver Tips And Best Time Saving Habits and My House Is Messy, Where Do I Start?.
For more washing tips:
7. Invest in Products Designed to Make Things Easier 
Clever inventor people are constantly coming up with ideas to make our lives easier. 
And, more often than not, more clever people will find ways to make those inventions even cheaper! 
It's easy to get hold of affordable gadgets and tools that can make household tasks fast and efficient. 
Here's a list of some of our favourite products:
Product 1: Slow Cooker or Pressure Cooker
If after finishing cooking the kitchen looks like a bombsite, it might be time to invest in a crockpot or pressure cooker. 
It might seem like an odd cleaning hack, but by reducing the amount of mess that gets made, cleaning is a whole lot faster and easier. 
Most of us are our least energetic after we eat, so dishes and pans get left overnight and build up throughout the week.
Prepping meals in the morning, doing a quick clean up and leaving them to cook all day in one dish means that after dinner there is barely any clean up to do. 
In fact, there's only the plates and crockery used to eat, and the slow cooker or pressure cooker itself. 
If a new kitchen device is out of your price range, you can achieve similar time-saving and clean-up reducing benefits from finding some one-pan or one-baking tray recipes. 
Product 2: Cordless Vacuum
A cordless vacuum, such as the Shark Cordless Vacuum Cleaner, is definitely not the cheapest solution to having a neat and tidy home. 
However, we do strongly endorse them if you're short on time and mess is getting the better of you. 
For some reason, the hardest part of vacuuming for us is unwinding and rewinding the cord. 
The actual process of vacuuming takes hardly any time or effort at all. 
A cordless vacuum is great if you're looking to take on the 'clean little and often' method of cleaning up. 
It's way easier to stamp on the on switch and whizz around the kitchen floor for 30 seconds than to convince yourself to get the big Dyson out the cupboard. 
Similarly, if you hate vacuuming the stairs with a gigantic vacuum cleaner than investing in a handheld makes the whole thing way quicker and less anger-inducing. 
Product 3: Oven Liners
Lining the oven with these non-stick mats can drastically reduce the amount of time it takes to clean an oven. 
Instead of scraping the bottom shelf to remove burnt-on debris, simply remove the mats and wash them in warm soapy water. 
The worst area of the oven is usually the base, where food and grease drip down. 
Save yourself time and effort by covering the bottom of the oven in an easy to remove, hard-wearing oven mat. 
Product 4: Scrap Collector
The hanging scrap collector makes cleaning up the counter quick and easy to reduce the time spent going back and forth from the compost. 
It hooks on to the inside of your drawer so you can just scrape all food scraps and waste into the bin and once you've finished cooking, or at the end of the day, take the waste to the compost. 
Product 5: Electric Scrubbers
Cleaning can be hard work, especially when scrubbing those hard to reach places.
Electric Spin Scrubbers feature a range of different sized and shaped spinning brush heads that do all the hard work for us. 
These are great gadgets for anybody who struggles to bend down, disabled people, or anybody who'd like to make cleaning a bit easier. 
One reviewer commented: "This little device is my new favourite thing! Cleaning our shower was my least favourite chore. Now I can get a deeper clean in less than half the time."
For a more affordable, smaller option we recommend the Super Sonic Scrubber – which is actually better than the device above for those nooks and crannies that are usually tackled with a toothbrush. 
8. Clean As You Go
Cleaning as you go is something we all know we should be doing, but generally don't stick to it. 
If you can develop the habit of cleaning up as you move around then you end up with much less mess to deal with in one go. 
This applies to cooking, getting ready in the morning and anything that generally produces the most mess. 
It's easy to drop this habit but if you really stick to it then you'll notice a huge difference in the mess that's left at the end of a busy day. 
How to Be a Clean and Tidy Person 
These 5 tips are created with the intention of changing habits and mindset from the inside out. 
Often one of the biggest barriers to maintaining a clean and tidy home is our mental state. 
When our houses get messy and become overwhelming, it's usually a sign of stress or other issues.
Did you know: If a hoarder is collecting newspapers, the newspaper's date on the bottom of the pile is usually just after a traumatic incident in their lives, which caused them to start hoarding. 
9. Don't Compare Your Home to Others
With the presence of social media in our lives, we are constantly viewing other people's homes and lifestyle. 
However, we sometimes forget that what we are seeing is the best version of their homes and lives. 
It doesn't make sense to compare every aspect of our homes with the perfect bits that people we follow are choosing to publish to the world. 
Behind the camera is probably a similar pile of laundry to the one we have on the bedroom floor, and they probably haven't cleaned behind the toilet in a while either. 
Everybody's situations are different so there's no logical reason to compare ourselves. 
Develop habits and systems that work for you, your household and your schedule, and don't worry about what anybody else is doing.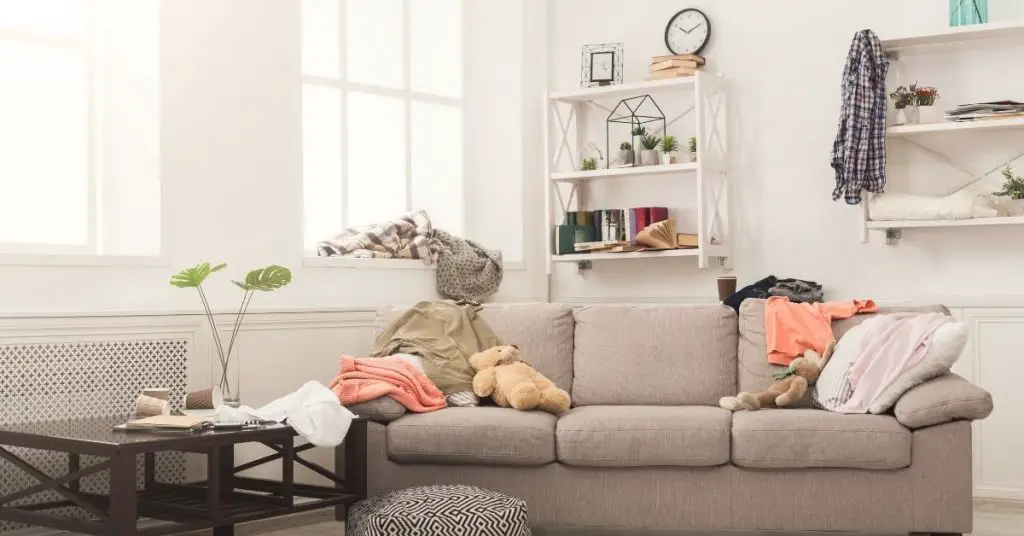 10. Be Happy with Enough 
This tip relates to not comparing your home to other people's, except this one is about being happy with what you've managed. 
You can only do as much as you can do. And that's the end of it! 
If on one evening you only manage to unload the dishwasher, or only have time to wipe down the kitchen surfaces, then that is all you had the time or energy to do. 
Instead of thinking that you haven't done enough, be happy with what you have done.
A great way of implementing this method is a daily or weekly Ta-Da List.
A Ta-da list means that instead of writing what you need to do and ticking off what you get done, write down every single thing you get done. 
This is a great way of not becoming overwhelmed with a huge list of jobs to do.
You can then look back on all you've done over the day, week or month and be proud of what you've achieved. 
11. Always Make your Bed 
Starting your day off by achieving one small thing, and getting it done right, sets the tone for the rest of the day. 
There's no better person to explain this than Admiral William McRaven, author of Make Your Bed: Little Things That Can Change Your Life… And Maybe The World.
William says:
"And of course, some people get up, they run or they do whatever their routine is. The idea of making the bed is it's the same sense of discipline. It's the same sense that you're going to get up and do something, but it's an easy task to undertake."

Admiral William McRaven
12. Make and Follow a Cleaning Schedule
Most things tend to go smoother with some kind of planning and organisation. 
Creating a feasible schedule for everybody in the household to stick to is way more effective than doing chores as and when they're remembered.
They help with making a solid routine which speeds up cleaning and ensures it actually gets done. 
Another huge benefit to using a checklist is that once all the jobs are ticked off, you can fully sit back and relax with the knowledge that everything is done.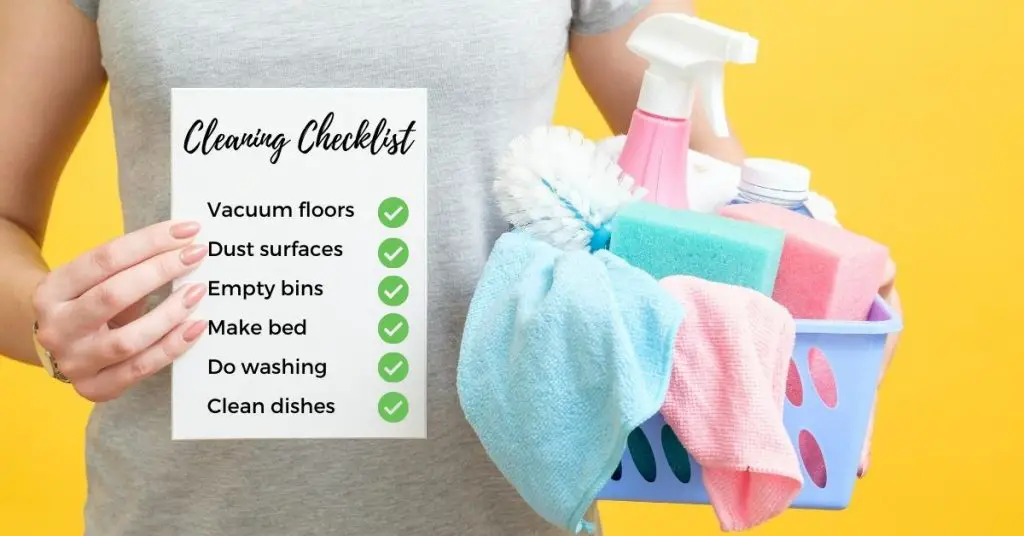 If you do chores on an ad-hoc basis then there's always that niggling feeling in the back of your mind that there's something that's been forgotten. 
With a cleaning checklist, you can prove and really believe that your home is clean and tidy. 
Our FREE deep cleaning checklist is an excellent example of how to clean every day and keep on top of housework. Just click on either button below to download.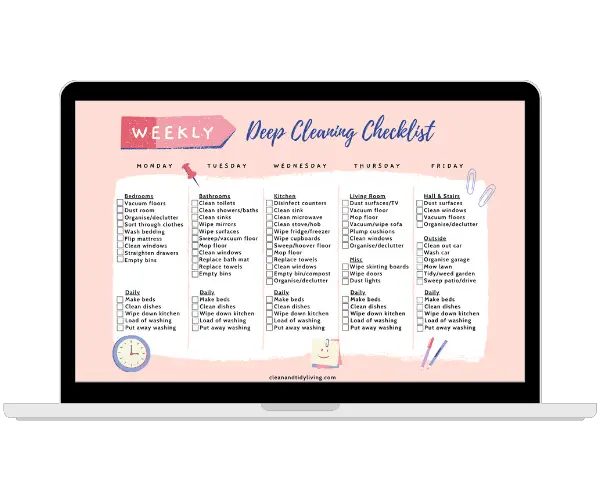 Read more about the benefits of a chore checklist, and why we highly recommend one in our post: What Is A Cleaning Schedule And How To Make One. 
13. Keep Cleaning Products Close
We don't mean that clean people should carry around their cleaning kit on their person at all times. 
What this means is that you have cleaning products close to the thing they're designed to clean.
This method of storing your sprays and cloths makes cleaning much easier as you can literally just grab and go. 
Having easily accessible products also makes it much easier to start, as there are fewer barriers to getting started. 
If there's a spill then having the clean-up tools nearby means it can be done in seconds, so it's much more likely to actually get done. 
We like keeping ours in handy trays or baskets so they can be easily grabbed out of cupboards and kept stocked with clean cloths and towels.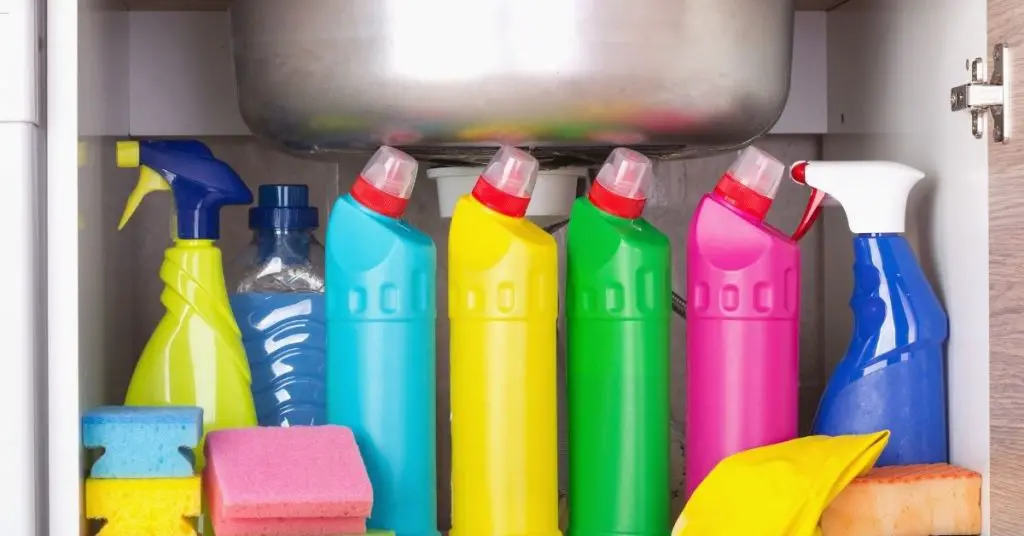 Our Final Thoughts on Keeping Your Home Clean and Tidy 
If you only took one tip away from this post, we hope it would be that you are happy with enough. 
There's no point in cleaning and tidying if it doesn't feel like you've achieved anything. 
Be satisfied and have pride in everything you've accomplished, no matter how small. There's no right way to clean your home.
We hope that our 13 helpful tips on how to keep your house clean and tidy have been helpful and will make some difference in your life.
Life is busy and seems to only be getting busier, so remember to go easy on yourself and don't compare your situation to other people's.
For more home organisation and deep cleaning advice, take a look at our related Clean and Tidy Living articles below. 
Related Cleaning Tips and Organisation Advice Articles:
How To Keep Your House Clean