What's the Best Lint Remover For Clothes in the UK
Since bobbling is caused by movement, it's pretty much inevitable that our favourite clothes will start to bobble at some point. 
Once the pilling has emerged, there are three ways it can be dealt with. 
We can either throw it away, ignore it, or try and get rid of the little fuzz balls.
Luckily, removing the bobbles with a debobbler is highly effective on most items. 
Electric fabric shavers are designed to work on a range of fabric, including the most delicate wools and silk. 
Buying a clothes debobbler will actually save you money in the long run.
Forget about throwing away and replacing all your clothes once they start looking a bit shabby. 
Simply get out the pill-remover and they're as good as new! 
But what's the best debobbler for clothes and furniture in the UK right now? 
We've scoured the web and found our Clean & Tidy top 5 recommendations for the best fabric shavers.
If You're in a Rush, Here Are Our Top Debobblers:
1. Always Lux Professional Bobble Remover Overall Best Fabric Shaver UK
2. Philips Fabric Shaver Best Value For Money Fabric Shaver 
3. BEAUTURAL Portable Fabric Shaver and Lint Remover Best Jumper Debobbler 
4. SUPER LINT Professional Electric Shaver – Best Debobbler For Furniture
For our detailed reviews and the pros and cons of each of our top 4, you'll find more info below. 
We've also covered what to look out for when picking an electric debobbler, so you can be sure you'll find the right one for you.
What to Consider When Choosing a Debobbler 
Weight 
Debobblers work best when used exactly parallel to the item being treated.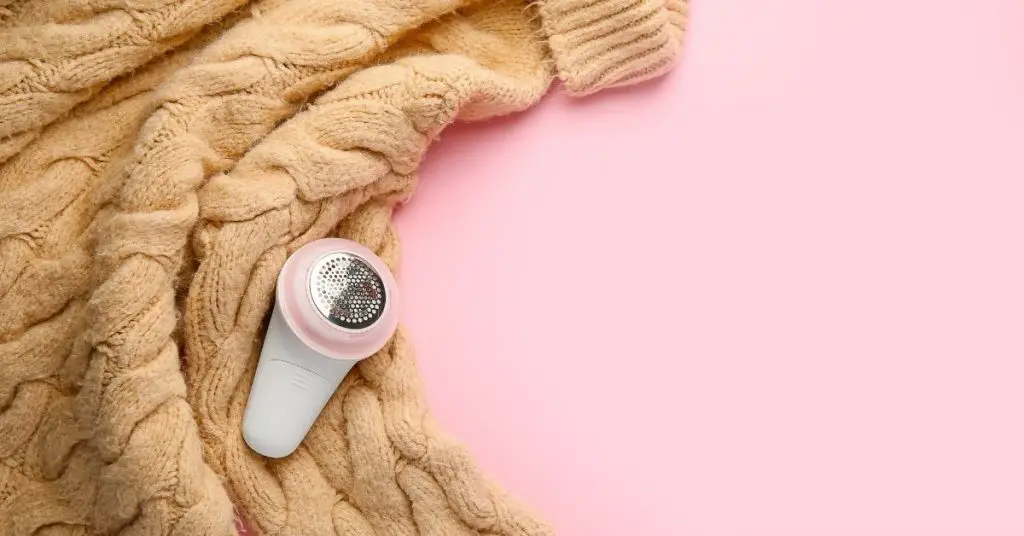 The weight of the mini appliance is important because it helps if it's comfortable to use, especially when debobbling a large item like curtains, bedding or a sofa. 
Weight will also affect how portable the product is, especially if you're wanting to travel with it. 
Does it Have a Handle 
Electric shavers will generally either have a handle, or it will be ergonomically designed to be held in the palm.
A handle definitely helps with debobbling larger items, but if you're only planning on using your electric debobbler for jumpers and other clothing items, a handle might not be necessary. 
Handles are better for larger items, but will add to the cost, size and weight. 
Power Supply
Debobblers will either have a mains plug power supply, be battery powered or be chargeable. 
If you're planning on travelling with your electric clothes shaver, then a battery powered or chargeable appliance will be better for your needs.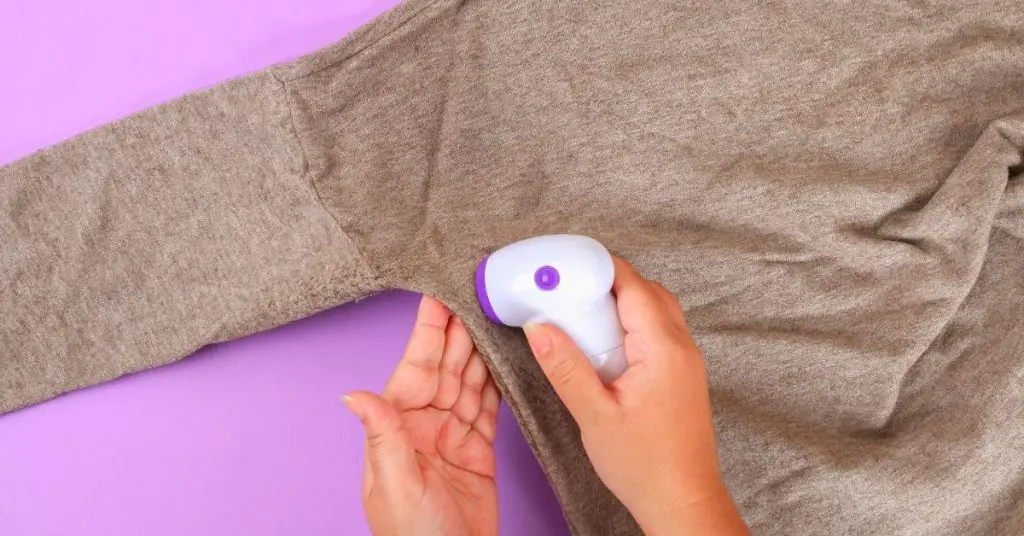 If you're frequently debobbling large items, then watch out for debobblers with short run times. 
Short run times may leave you out of power before you've finished the job. 
You might also like our reviews and recommendations for the Best Smelling Laundry Detergent in the UK.
What Is the Best Bobble Remover?
Now we've covered a couple of important considerations for choosing the right product for you, let's get into the reviews. 
Here are our Clean and Tidy Living top electric clothes and furniture debobblers. 
Although each of our top 5 have different advantages for different uses, this AlwaysLux debobbler is our chosen appliance for best overall fabric shaver. 
It's slightly pricier than some of our other recommendations, but we think the job it does is well worth the small investment. 
The AlwaysLux debobbler is powerful and well-made.
This appliance is quite large and heavy for a handheld device, so we wouldn't recommend this to people with wrist pain or struggle with carrying weight for a long period of time. 
A powerful pill remover that works on furniture, bed sheets, comforters, couches, chairs and sofas, whilst being gentle on wools and clothing. 
Weight: 689g
Power Source: Battery operated AND UK/EU Adapter operated and with a 69′ power cord
Colour: Black with red carry case
Dimensions: 29.79 x 18.49 x 9.3cm
After researching the Always Lux Professional Bobble Remover, we think it's the best choice for somebody looking for a powerful, high-quality product because it performs well on practically all fabrics. 
However, we wouldn't recommend this lint shaver for somebody who rarely requires a debobbler, because there are cheaper options out there that will do small jobs just as well. 
To find out more about this product, including reviews and specifications, click the button below. 
Customers have also included some great befores and after shots from this device in their reviews. 
The Philips debobbler is one of the most popular out there, due to its affordable price-point and efficiency with debobbling. 
It's a very lightweight, battery-powered appliance that's great for travelling.
The blade has three different sized holes, so it picks up even the smallest of bobbles. 
Since this electric shaver weighs just 200g, we recommend this product for people who struggle with carrying heavy appliances for a long period of time, such as people with wrist strain or elderly people. 
Lightweight, affordable and portable debobbler that works well for use in the home and whilst travelling. 
Weight: 200g
Power Source: Battery powered
Colour: Purple, black or light blue
Dimensions: 5.8 x 12.3 x 8cm
After researching this Phillipps debobbler, we think its the best choice for an affordable, lightweight electric shave. 
However, we wouldn't recommend this lint shaver for frequent use on large items because it's designed more for items of clothing like jumpers.
To find out more about this product, including reviews and specifications, click the button below. 
This BEATURAL Portable debobbler is lightweight and battery powered for use anywhere you go. 
We like the shape of this electric shaver although its slightly smaller head makes it difficult to do large fabrics like sofa cushions or bedsheets. 
This item is very popular on Amazon and other retailers, with many good reviews for its performance. 
We think this appliance is a great wool debobbler that's gentle on delicate fabric fibres.
Adjustable height settings and safety cap to stop snags on soft or fluffy jumpers. 
Weight: 164g
Power Source: Battery powered (batteries not included)
Colour: Grey
Dimensions: 6.35 x 8 x 15cm
After researching this BEAUNATURAL Portable lint remover, we think it's the best choice for jumper debobbling because of the adjustable height settings and safety cap. 
However, we wouldn't recommend this lint shaver for large items or frequent debobbling because the small head won't cover a lot of area quickly.
To find out more about this product, including reviews and specifications, click the button below. 
Out of our list of the best fabric shavers, we think this SUPER LINT professional electric shaver is the best choice for removing pilling off of furniture. 
Although being slightly more expensive than our other options, it's a very high-quality machine that can be battery powered or mains powered. 
This high-powered lint remover can tackle all fabrics, including rugs and carpets. 
It's versatility will be a massive cost saving, as most items can be revived to look as good as new and won't need replacing once they start looking tired and worn. 
Professional quality electric shaver with a large lint compartment, ideal for debobbling sofas, mattresses and curtains. 
Weight: 440g
Power Source: Battery and mains powered
Colour: Black & Silver
Dimensions: 19 x 17.6 x 8cm 
After researching this SUPER LINT Professional Electric Shaver, we think its the best choice for furniture debobbling because of its large compartment for lint fibre collection.
However, we wouldn't recommend this lint shaver for travelling because it's quite a large product that would take up a lot of room in a suitcase. 
To find out more about this product, including reviews and specifications, click the button below. 
What Causes Pilling on Clothes? 
So now we've covered the best electric shavers to remove pilling on our belongings, let's just go back to basics and work out where these annoying bobbles actually come from!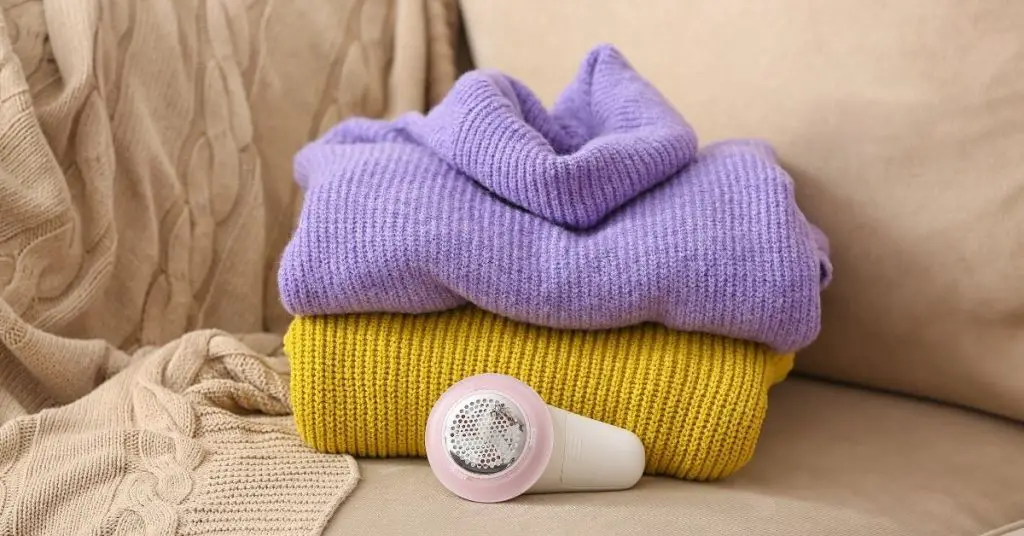 Pilling is caused by friction and abrasion which tugs at our garments and causes a build-up of fabric fibres. 
Think of it like how a snowball collects more snow as it rolls down a hill. 
These fibres are broken and collected from the movement of our bodies, such as underarms or between legs, and in the laundry process. 
Check out our post Why Do Clothes Bobble And How Can It Be Stopped to find more about bobbling and how to avoid it.
Best Debobbler for Clothes and Furniture in the UK – Final Thoughts 
It's great to know that there are so many devices out there that can save us money and get our expensive clothes and upholstery looking brand new again. 
Here at Clean and Tidy Living, we know that our readers don't all have the same needs or budgets. 
We like to include a range of different products that are designed for specific uses, and at various price points. 
Hopefully in our top 4 list for the best debobbler, you've managed to find a product that works for you and your household. 
Or if you just wanted some extra information to help in knowing what to look for with a new handheld fabric shaver, we hope you're now feeling more confident in what to buy.
If you've enjoyed this post, here are some of our related articles that you might also like.
Related Laundry Articles:
Best Debobbler for Clothes & Furniture