Most Powerful Toilet Cleaning Product in the UK
Supermarket shelves are packed with hundreds of toilet cleaning products all claiming to do weird and wonderful things. 
When it comes to cleaning our WC's, the most important factor is disinfecting. 
We're usually looking for the most powerful toilet cleaner that cuts through bacteria and bad smells. 
It can be hard to decipher which toilet cleaner will do the best job at cleaning and properly disinfect our loos. 
We researched and reviewed several options, to find the ultimate strongest toilet cleaner UK. 
Although cleaning-power is the deciding factor, there are other things we consider when choosing a loo cleaner. 
For example, in hard water areas limescale in a toilet is a consistent burden. A scale-busting product will then be a better option to stop that dreaded orange build-up which is near impossible to shift. 
Or if you want to avoid the harsh chemicals normally found in toilet bleach, you might be searching for an eco-friendly toilet cleaner that still gives a powerful clean. 
Related:
We all have different needs when it comes to household cleaning, so we like to provide a range of options so you can find the best product for you! 
This post will cover our top choices for strong toilet cleaners and how to buy the right one for you.
Want to skip the reading? Have a read of our list below.
Our Clean and Tidy Living Top 11 Strongest Toilet Cleaners Available in the UK:
1. Overall Strongest Toilet Cleaner UK:
Harpic Professional Range Power Plus Toilet Cleaner Gel 
2. Strongest Toilet Cleaner for Hard Water Areas:
HYDRA Heavy Duty Toilet Cleaner and Descaler – 5L
3. Best Toilet Cleaner for Limescale in Toilet:
HG Toilet Cleaner – Super Powerful  
4. Best Eco-Friendly Toilet Cleaner:
Ecover Toilet Cleaner Sea Breeze & Sage
5. Best Eco Toilet Cleaner – Bulk/Refill:
Ecover Pine & Mint Toilet Cleaner – 5L  
6. Best Smelling Toilet Cleaner:
Ecover Power Toilet Cleaner Lemon & Orange 
7. Best Hygienic Toilet Cleaner:
HG Hygienic Toilet Area Cleaner  
8. Most Easy to Use Toilet Cleaner:
Duck Deep Action Gel Toilet Liquid Cleaner

9. Best Toilet Rim Block UK:
Bloo Colour Active Bleach Toilet Rim Block 
10. Best Foaming Toilet Cleaner:
Bloo Foam Aroma Toilet Cleaner Powder
11. Best Multi-Purpose Anti-Bacterial Bathroom and Toilet Cleaner:
Method Antibacterial Bathroom Cleaner 
How to Buy the Best & Strongest Toilet Cleaner
Method of Application
The most common form of toilet products is a pourable liquid or gel, like the well-known toilet duck or Harpic power plus.
Other options are powders that produce a foam when mixed with water which, let's be honest, is basically a fun science experiment from our school days. 
For low maintenance bog cleaning, you might prefer toilet bowl cleaners that go under the rim and clean the bowl with every flush The outside of the toilet and loo seat will still need disinfecting, but it's nice to know that the inside of the toilet bowl is always squeaky clean.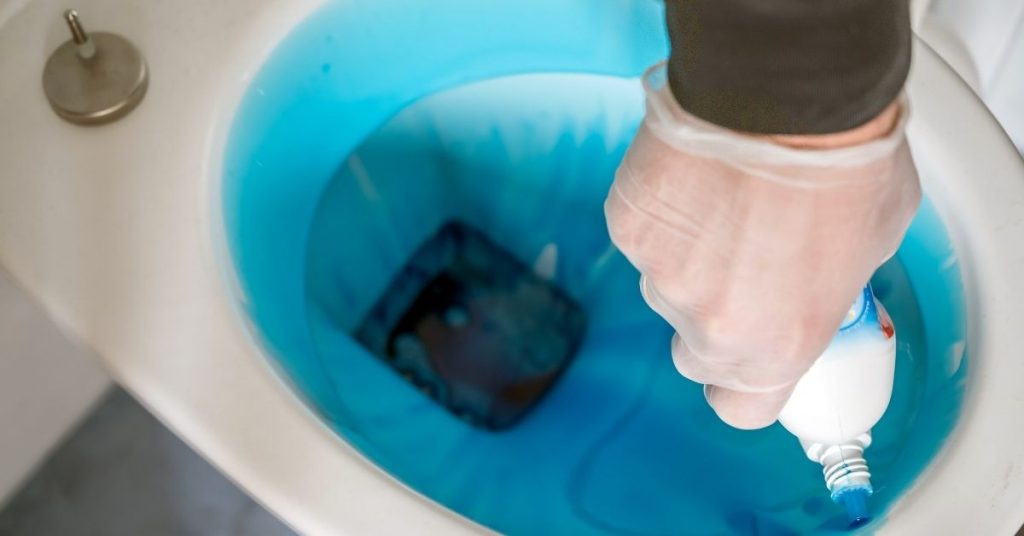 Problem Targeting 
As we briefly mentioned in the introduction, toilet cleaners usually have specific problem areas they're designed to solve. 
Hard water areas will require limescale busting ingredients, whereas soft water areas don't have this problem so these products aren't the best choice. 
We've tried to address a range of problems in our recommendations so that there's at least one that works for every household.
Toilet Cleaner Product Scents
Cleaning products are available in a massive range of scents to suit most of our palettes. 
It's not a huge worry for most of us, as long as it beats the usual smell of toilets. 
But if you can't stand the strong smell of bleach and cleaning products then have a look for scents like mint, pine or even 'ocean'. 
Top 11 Best Toilet Cleaning Products in the UK
Great For: Powerful toilet cleaning and disinfecting to banish germs and viruses.
This Harpic Power Plus toilet cleaner is from their professional range and is renowned for giving a truly powerful clean. It even claims to be better than bleach and acts against viruses. 
The powerful formula clings to the bowl to attack all germs, effectively eliminate limescale and remove stains, helping to give your WC its deepest clean.
This Harpic power plus is also our recommendation for best toilet bowl cleaner UK. 
Great For: Limescale in toilet, uric acid stains, heavy-duty or commercial cleaning.
If you're looking for an incredibly strong loo cleaner, you won't find much better than this HYDRA HDC-76. 
It tackles limescale and uric acid stains whilst disinfecting and deodorising. Some reviewers even claim it works to unblock drains! 
The chemicals are really strong, so be sure to follow the usage instructions and allow for proper ventilation. 
Great For: Cleaning limescale and general toilet cleaning in hard water areas.
A lot of HG cleaning products are favoured in the commercial cleaning industry, and this Super Powerful toiler cleaner is one of them. 
The specially developed formula of HG Super Powerful Toilet Cleaner clings to the toilet's surfaces and ensures effective removal of all scaling and soiling. 
How to Remove Limescale from Toilet Below Waterline
The best way to remove limescale involves a non-metal scrubbing tool, a limescale dissolving product and a lot of elbow grease. 
You can read more about removing limescale and rust from inside a toilet bowl in our post How To Clean A Very Stained Toilet Bowl.
Or, have a watch of this video on how to remove hard water stains from your toilet.
Great For: Powerful and effective cleaning without nasty chemicals. 
This eco-friendly cleaning product uses natural ingredients instead of harsh bleaches. It has a lovely fragrance that isn't eye-wateringly strong. 
It's a great general toilet cleaner but not so good at removing limescale. If you have a limescale problem we recommend using this toilet cleaner alongside a stronger dedicated scale removing product. 
Great For: Eco toilet cleaning bulk buy with a fresh fragrance.
Buying cleaning products in bulk can reduce plastic use and save money. 
This Ecover toilet cleaner is a great general-use product to use for regular WC cleaning but not such a strong formula for decalcifying and removing limescale.  If you have a limescale problem we recommend using this toilet cleaner alongside a stronger dedicated scale removing product. 
The bottle is large and quite heavy to pour so not so good for older people or homes and flats with minimal storage.
Great For: Natural but powerful toilet cleaning with a pleasant smell. 
Despite having plant-based and mineral ingredients, this toilet cleaner does a really good job at disinfecting and removing limescale deposits. 
The smell is quite strong so might not be for everyone, but we love that freshly cleaned bathroom smell. It's also nice to know you're not inhaling bleach or other chemicals whilst cleaning the bathroom.
Great For: An easy to use toilet cleaner liquid which leaves your bathroom disinfected and smelling fresh.
The spray nozzle of this bottle makes cleaning the toilet and toilet area fast and easy. 
This disinfecting spray gets our vote for best toilet seat cleaner UK.
Simply spray and wipe down starting with the cleanest parts and finishing with the dirtiest then chuck your cloth or sponge in the washing machine.
It's not designed for heavy-duty cleaning or scale removal but HG does have products designed specifically for these jobs. 
Great For: Overnight toilet cleaning and fresh fragrance
This toilet duck cleaner is an ideal general cleaning product that will effectively disinfect the inside of the toilet bowl. 
We like leaving this product overnight as the liquid clings well to the porcelain. 
You can buy this product in bulk which is great for when you want to stock up: Duck Deep Action Gel Toilet Liquid Cleaner – Pack of 12  
Great For: Toilet bowl cleaning with every flush and maintenance between cleans.
At Clean and Tidy Living we do like toilet bowl cleaners like this rim block, but find they're only useful alongside regular toilet cleaning and don't replace the need for disinfecting. 
They're a nice extra step in toilet cleaning and fragrance, but not essential. 
This is our favourite toilet rim block that bleaches the toilet bowl with every flush so you can be sure the bowl is cleaned. 
Great For: Powerful bowl cleaning with a foam reaction that cleans deeply. 
This Bloo Foam Aroma leaves the toilet bowl sparkling clean and fills the bathroom with a beautiful fresh ocean fragrance.
The product works by fizzing and foaming up inside the loo bowl. It freshens and perfumes whilst helping to remove limescale. 
It's great as a final step after cleaning the seat and outside of the toilet so you know it's all been thoroughly cleaned. 
Great For: Bathroom and toilet disinfecting with a great fragrance and natural ingredients.
We couldn't not include a Method product! At Clean and Tidy Living we are huge advocates of all Method cleaning products, and this one isn't an exception.
Although Method doesn't currently have a dedicated toilet cleaner, this minty bathroom cleaner works great for cleaning the outside of the toilet and toilet seat. 
If you like to buy multi-purpose cleaners that aren't designed for one specific object then we definitely recommend this bathroom cleaner to tackle all those wet-room jobs. 
Which Is the Best Toilet Cleaner in the UK?
It's difficult to pinpoint a one-size-fits-all toilet cleaner that will work for every household. 
If we could only recommend one, we would suggest the Harpic Professional Range Power Plus Toilet Cleaner Gel. 
The Harpic power plus really does give the strongest cleaning power to a toilet. 
However, we also love the other products in this article. 
It's all about where your problem areas lie, your favourite smells and the ideal method of application.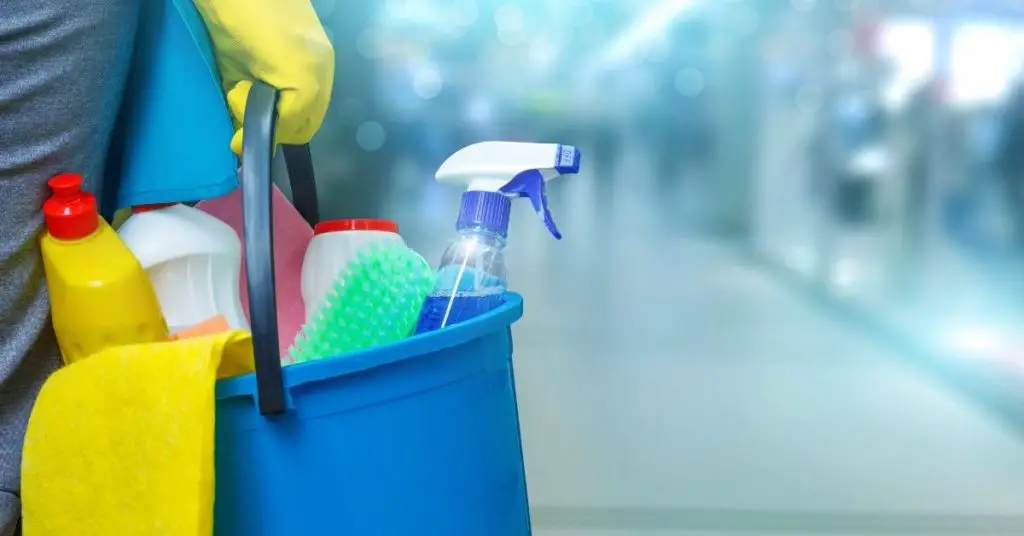 Strongest Toilet Cleaner UK – Final Thoughts
When it comes to loo cleaning, it's not a job most of us look forward to. 
Luckily, there are more and more products out there that can be left alone to do the job by themselves with minimal effort needed on our part. 
The key to an easy bog clean-up is a strong product that tackles the scale and germs without the need for gloves and scrubbing. 
Hopefully, this post has helped you discover your new favourite strongest toilet cleaner UK.
We hope that at least one of our recommendations matches what you're looking for. We try to suit as many households as possible by choosing a wide range of products. 
Related Toilet Cleaning and Disinfecting Articles:
Best & Strongest Toilet Cleaner in the UK