What is the best product in the UK for removing Limescale
Limescale is essentially the barnacles of the land.
It builds up where it's not wanted, is ugly to look at and can lead to expensive repairs or even replacements.
However, it is possible to avoid the problem by fixing leaky taps or taking steps to soften the water in your home.
But if the effects of hard water have started to emerge, then luckily there are products designed to remove it.
In this post, we're reviewing our recommendations for the best limescale remover UK, to help prevent and dissolve the sworn enemy of shiny taps.
Everybody has to deal with limescale at some point in their lives.
It's an unfortunate side effect that comes with living in a hard water area, which according to Express is over 13 million households in the UK.
So if you're dealing with a pesky limescale problem, you're not alone.
In this post, we'll be discussing what limescale is, the best products for removing limescale, helpful tools for removing scale, and a recipe for a homemade limescale remover.
Related:
If you'd rather skip the reading, here are our top 5 recommendations for descalers in the UK:
1. Kilrock Big K Multi-Purpose Descaler – Best Limescale Remover UK
2. HG Professional Limescale Remover – Best Industrial Limescale Remover
3. Cillit Bang Limescale Remover – Best Smelling Multi-Purpose Descaler
4. HG Scale Away Foam Spray 3x Stronger – Best Limescale Remover For Bathrooms
5. Ecover Limescale Remover – Best Natural Limescale Remover
What is Limescale?
To understand how to get rid of limescale, it's good to know what it is and why it occurs.
The scientific name for limescale is calcium carbonate, as it's largely made up of calcium.
'Hard' water refers to the presence of minerals that collect in our water as it passes through the chalky layers of the earth.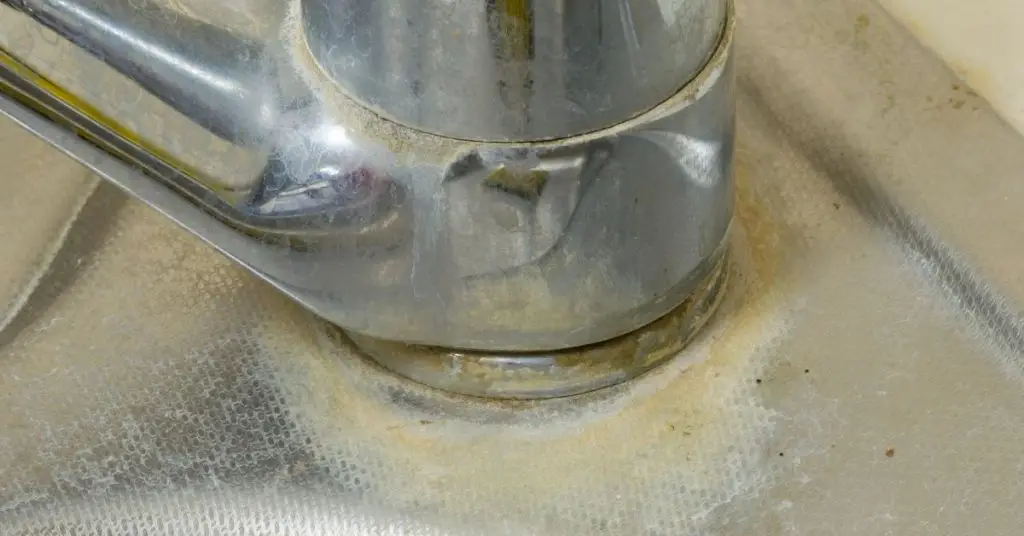 When hard water evaporates, these minerals are left behind.
So anywhere there's a presence of water is subject to limescale, but particularly where water is frequently lingering and is left to evaporate – like showerheads and the ends of our taps.
What Is the Best Limescale Remover UK 2021
Kilrock is a big player in the limescale-removing game.
They claim that this formula removes limescale in just five minutes!

Even if it's not exactly a 5-minute miracle for some scale, it still works very fast to eradicate limescale inside appliances or on surfaces.
One reviewer says:
"There are so many different descalers out there but Kilrock is always the one I end up coming back to because it's just so effective – on coffee machines, kettles, even toilets.

There are five 'servings' to a bottle and these are handily marked out on the side which helps when you're using it. It really does nuke the limescale and satisfyingly fizzles while it's doing its thing."
A rapid-action, powerful limescale remover that works all around the home to destroy scale and leave things sparkling.
Since this product is such a strong formula, we recommend watching closely the first time you use it. Especially on or near metals, granite and marble.
Keep a close eye to make sure no damage or staining will occur and avoid leaving the formula for a prolonged amount of time (or overnight).
Pros
Dissolves limescale quickly
Versatile for use around the house
Works well on drip stains
Good value for money
Multiple doses in one bottle
Cons
Can damage chrome and other metals if left on for too long
Not as easy to apply as a trigger spray
We recommend this limescale removing product for removing limescale because of its rapid-action and incredibly powerful formula.
However, we wouldn't suggest using this product for general bathroom cleaning or preventing limescale because it's designed as a deep-treatment, rather than for daily use.
For more information on this product, including reviews and details on prices, click the button below.
If you're wondering how to remove limescale from shower heads, our post How To Clean A Fixed Shower Head Like A Pro has lots of helpful tips.
This industrial descaler is formulated to tackle stubborn limescale and deposits on tiles, shower doors or taps.
Since it's a liquid gel formula, its great at clinging to vertical surfaces like tiles or shower doors.
This descaler from HG removes persistent limescale, rust stains, yellow stain deposits and copper Oxide which are common problems in toilets.
Although toilets can be quite fussy about which products will and won't work for them, we definitely think that this product os the best limescale remover for toilets. Or at least one of the best.
For more tips and product recommendations for cleaning the bog, take a look at our post How To Clean A Very Stained Toilet Bowl.
A highly concentrated gel that clings onto showerheads and vertical surfaces, which is great for a deep-limescale treatment in toilets or on taps and showerhead fixtures.
HG recommends that this product is only used on showerheads that are stated to be acid-resistant.
Pros
Gel formula sticks well to vertical surfaces
Super-concentrated formula
Safe for most materials found in bathrooms
Dissolves limescale quickly
Comes in a large bottle that will last a while
Can be used undiluted or diluted for less serious cases of limescale
Cons
Can damage certain metals and surfaces
Not as easy to apply as a trigger spray
We recommend this limescale removing product for those looking to remove limescale from shower cubicles or toilets, because of the super-concentrated gel formula that sticks to vertical surfaces well.
However, we wouldn't suggest using this product for appliances or kitchen surfaces because the formula doesn't say it's safe to use.
It also doesn't explicitly say that it's unsafe, but it's best to err on the side of caution when it comes to strong chemicals and kitchens.
For more information on this product, including reviews and details on prices, click the button below.
We love this descaler from Cillit Bang because of it's easy to use trigger spray and ability to remove limescale.
Since it also removes soap and scum we also love using this product as a regular-use bathroom cleaner to keep surfaces and metal fixtures looking gleaming.
Cillit Bang's Limescale Remover has a lovely smell too, which is always a bonus for a cleaning product, especially in the bathroom.
A lovely smelling descaler that's great for removing limescale but also as a weekly wipe-down bathroom cleaner to keep limescale away and remove build ups from soap and scum.
Please note that this cleaner isn't to be used on brass or copper and zinc plated metals, as it can cause surface damage and staining.
Pros
Very nice smell
Removes limescale
Multi-purpose
Prevents rust and dirt from sticking
Easy to use application
Cons
Not super concentrated
Can drip down on vertical surfaces
We recommend this limescale removing product for descaling but also general bathroom cleaning because of its ability to dissolve limescale, rust, soap scum and dirt.
However, we wouldn't suggest using this product for thick limescale because the formula isn't super concentrated.
For more information on this product, including reviews and details on prices, click the button below.
HG, the cleaning company, have designed this product to target tiles, shower cubicles, plastic bathtubs, washbasins, taps, showerheads and kitchen worktops.
It's a great versatile descaler that can be used virtually all around the home.
A powerful foam spray that easily clings to showerheads and vertical surfaces like tiles, to remove limescale completely.
HG states that this product may be corrosive to metals, and reviewers have commented that the product has caused damage on marble and granite surfaces, so be sure to use it with caution.
Pros
Easy to use spray
Super strong formula
Can be used all around the home
Foam clings to vertical surfaces
Great before and after photos from reviewers
Cons
Can cause damage to surfaces if left on for too long
We recommend this limescale removing product for versatile and powerful limescale treatment because of its extensive list of uses and ultra-strong formula.
However, we wouldn't suggest using this product for use on or near marble and granite because reviewers have commented that the product caused permanent damage.
For more information on this product, including reviews and details on prices, click the button below.
A lot of descalers contain highly concentrated chemicals.
It's great to know that there are natural, eco-friendly products out there that can do the job just as well.
Even though it's natural, it still feels like a strong cleaner.
One reviewer even claims that the spray makes them cough in enclosed shower cubicles, so there is some kind of chemical reaction happening with the citric acid and mineral deposits.
A powerful, all-natural descaling foam spray that effectively clears scale from household appliances and surfaces – without harming nature.
Ecover have used citric acid and powerful foaming action to create a product that is specifically engineered to remove crusty limescale and calcium deposits found on taps, tiles and sinks.
Pros
Natural formula
Not tested on animals
Sprays as a wide foam
Cons
May need to apply twice or more for particularly scaly areas
Not highly concentrated
We recommend this natural limescale removing foam spray to households looking for an eco-friendly descaler that isn't made up of harsh chemicals.
However, we wouldn't suggest using this product for thick limescale because the active ingredient of citric acid may not cut through it.
For more information on this product, including reviews and details on prices, click the button below.
If you've enjoyed this post, you might also like our Clean and Tidy Living reviews for The Best Mould Remover in the UK.
4 Helpful Tools for Removing Limescale
We recommend this brush set in just about every article, and for good reason.
We love the ergonomic handles, the stiff brushes and the silicone scraper that satisfyingly scoops out gunk from tiny gaps.
This tool is great for scrubbing away limescale, cleaning grout and doing any cleaning job you'd usually use a toothbrush for (apart from brushing your teeth, obviously).
Limescale often builds up underneath things due to water dripping downwards.
This clever spray bottle can be used at any angle, allowing for accurate spraying of taps, showerheads and awkward tiles.
This funny-looking gadget is a great way to soak scaly taps without having to waste loads of descaler or white vinegar filling up a sandwich bag.
Removing limescale off tiles is an arduous job that can take ages to finish.
Using a heavy-duty scrubbing brush will scratch off limescale faster, so a large surface area can be done quicker and with less effort.
Homemade Limescale Remover
Limescale is a tricky problem to solve.
Especially if you prefer to stay away from chemicals in household cleaning.
Since it's essentially rock particles building-up on our appliances and taps, it's hard to believe it can be shifted with natural ingredients we use in our food.
But limescale can actually be removed with homemade limescale remover.
If you're looking for an eco-friendly, natural limescale remover, look no further than your kitchen cupboards.
Lemon juice and white vinegar are both fantastic descalers.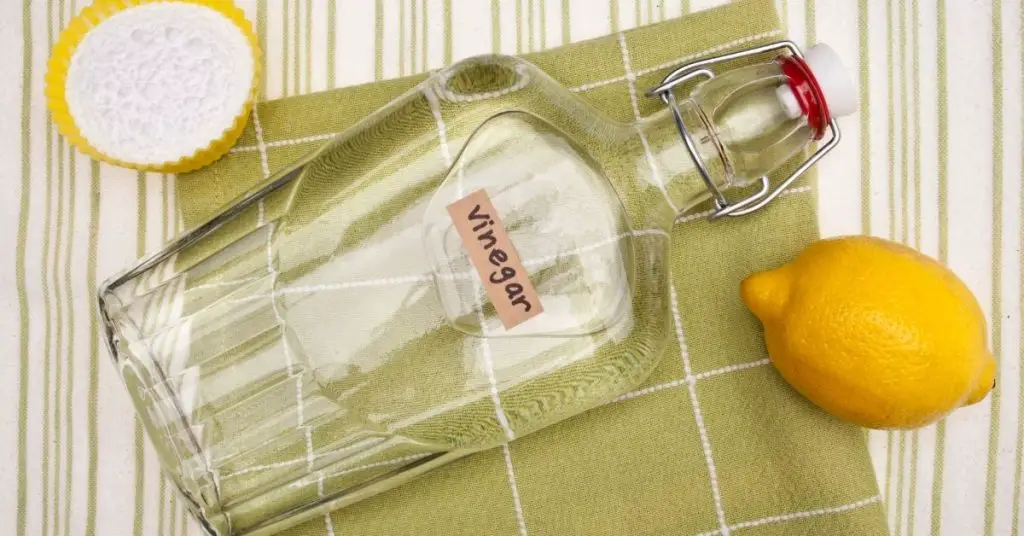 And they're often a lot cheaper than a commercial cleaning product.
We will admit that lemon juice and white vinegar aren't as effective at removing thick limescale as chemical-based limescale removing liquids.
However, the magical duo is just as good at preventing and treating minor limescale build ups as the powerful gels and sprays.
To remove limescale with lemon juice or liquid, there are a few methods.
Lemon juice and vinegar are both acids that can dissolve the calcium build up inside appliances or on the ends of taps and showerheads.
To give them a better chance, it helps to soak the scale overnight if possible.
Method:
For taps and showerheads that are fixed, fill a bag with white vinegar or lemon juice (diluted if the scale is minor) and secure with a food clip, elastic band, hair tie or anything that keeps the bag secure.

Leave the fixture to soak overnight, remove the bag and rinse with a soapy sponge.

If the scale is stubborn and hasn't shifted, try scrubbing with a stiff-bristled brush.
For a regular use bathroom descaler, dilute lemon juice or vinegar 1:1 in a spray bottle, spray onto surfaces and leave for 5 minutes then wipe away.
These natural ingredients work best when used as a preventative measure or for minor limescale buildup.
If you don't want to have to resort to chemical descalers, try and deal with limescale as soon as it appears.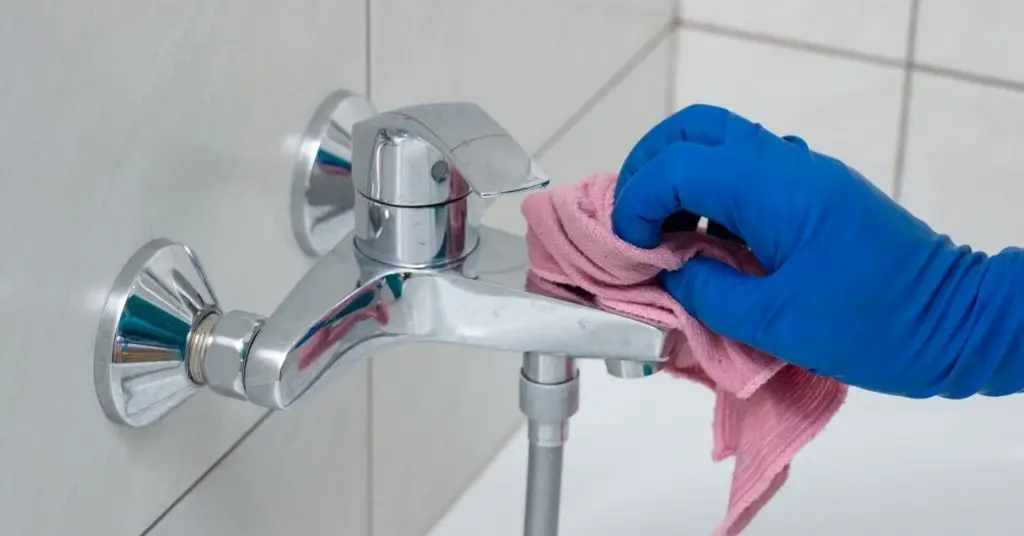 What Is the Best Limescale Remover UK – Final Thoughts
Limescale is a pesky problem that, unfortunately, will never go away for good.
However, despite its seeming permanence in our bathrooms and kettles, there are plenty of effective scalers out there to remove it and keep it away for longer.
And luckily, these descalers are generally affordable and contain multiple doses per bottle, so they can stay waiting patiently in our cupboards until we need them.
For those of us who'd rather avoid using commercial cleaners in bathrooms and kitchens, homemade limescale removers made from lemon juice or white vinegar can still do a pretty great job.
So whether you came here for recommendations on the best limescale remover UK, or advice on descaling the natural way, we hope you've found this article helpful.
At Clean and Tidy Living we know that no two households are the same, and we all experience limescale in different areas and of varying severity.
We try and recommend a wide range of products that are designed to target different areas, so that there's something in our review posts for everyone.
If you've enjoyed this article and have found it useful, you might also like some of our similar organisation, product review and cleaning hack posts listed below.
Related Limescale Removing and Product Review Articles:
Best Limescale Remover