Cleaning with White Vinegar and Where to Buy It
This smelly substance seems to be having a comeback in the household cleaning world. 
So where can you buy white vinegar for cleaning, in big enough quantities to get a whole range of tasks done?
Many homes are swapping their powerful, chemical-based cleaning products for natural remedies. 
This might be because of increased awareness of the environmental impacts of chemicals, their potential toxicity and damage to our health, or just because it works out a lot cheaper. 
Since this acidic miracle cleaner is a common cooking ingredient, white vinegar is available in most UK supermarkets and homeware stores.
And to make it even more budget-friendly, white vinegar can be bought in bulk from Amazon and other online retailers. 
If you're not sure where to buy white vinegar for cleaning in the UK, then we've compiled a list of where to buy white vinegar in bulk and also which supermarkets stock the magic liquid. 
In this post, we'll cover:
Where to Bulk Buy White Vinegar
Which UK Supermarkets Stock White Vinegar 
Common Ways to Use White Vinegar in Cleaning
Where to Purchase White Vinegar for Cleaning in the UK
Where to Buy White Vinegar in Bulk
The best way of getting cheap vinegar is to buy it online in large quantities. 
If you're planning on using white vinegar in the laundry, household cleaning and cooking, then we recommend ordering a 5 Litre bottle.
Most cleaning recipes will ask for a minimum of 250ml or 1 cup of vinegar, which will quickly use up the average store size of 1 Litre. 
We also include the strength of the vinegar so you know how effective each product will be, and whether or not it should be diluted before use. 
Here Are Our Favourite White Vinegar's to Buy In Bulk Online:
Buying white vinegar in 5 Litre containers is definitely the best value for money. 

If you're planning on using white vinegar in most or all aspects of your household cleaning routine, it's definitely worth getting hold of a large bottle. 
Quantity: 5 litres, 5.19kg
Using white vinegar for cleaning is much easier with a smaller spray bottle, especially struggle with lifting and pouring heavy bottles.
We recommend these more eco-friendly glass spray bottles from Amazon, but plastic ones work just as well too. 
It's much easier to use white vinegar in your cleaning routine when it's readily in a trigger spray bottle. 
This pack of two bottles from Dripak is great for people who are starting out with using spirit vinegar to clean the home. 
Once you've used these bottles up you could then buy a big refill pack to top them up. 
One reviewer says:
"I use this for cleaning windows, mirrors and the inside of the fridge. Really practical spray nozzle and no nasty fumes from chemical cleaning fluids to breathe in. Will be ordering again."
Quantity: 2x500ml, 1.1kg
Stardrops White Vinegar is ideal for extra tough cleaning and descaling tasks around the home. 
If you live in an area with particularly hard water that has caused thick layers of limescale to build up in appliances and on faucets, regular household vinegar may not be strong enough.
Vinegar will react better with the calcium in the limescale and remove grime easier in hard water areas.
Quantity: 750ml x 6
If you're enjoying this post, you may also like our similar article How To Clean A Washing Machine With White Vinegar. 
Where to Purchase White Vinegar – Supermarkets and Homeware Shops
If you're planning on tracking down some white vinegar in your local shops, it's always nice to know what you can expect to find on the shelves before you get there. 
We've included the largest available quantity of vinegar in popular UK supermarkets so you know which is best for you. 
Sainsburys White Vinegar
Sarson's White Distilled Vinegar 
Quantity: 568ml
Strength: 5% acidity
Aldi's White Vinegar
Bramwells Distilled Vinegar
Quantity: 568ml
Strength: 5% acidity
Tesco
Tesco Distilled Vinegar 
Quantity: 568ml
Strength: 5% acidity 
Asda 
ASDA Distilled Malt Vinegar
Quantity: 568ml
Strength: 5% acidity
Morrison's
Sarson's White Distilled Vinegar 
Quantity: 568ml
Strength: 5% acidity
Homeware stores that may stock white Vinegar:
Home Bargains 
B&M
The Range
Pound Land
Wilko
8 Ways to Use Vinegar in Cleaning 
White vinegar is popular in cleaning due to its acidity which cuts through grease and grime, leaving a shiny and mess-free surface.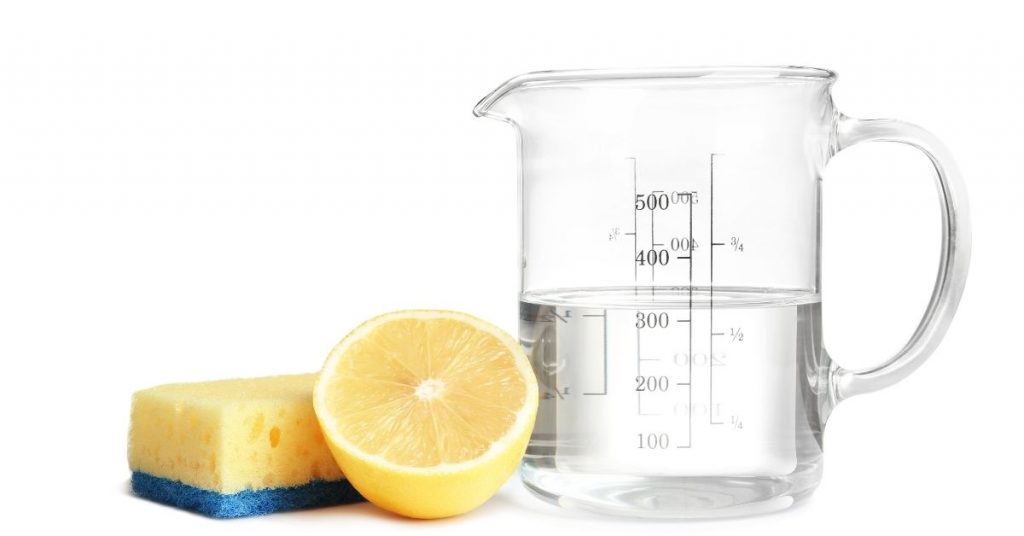 Even with the trickier jobs like shining mirrors and windows, many cleaning guru's favour vinegar and newspaper as their top method for a streak-free clean.
If you're new to cleaning with white vinegar, this quick list will offer some inspiration and guidance in the many ways you can use the smelly substance to get your house sparkling. 
Windows and Mirrors 
Using distilled vinegar, fill a spray bottle with half water and half vinegar. 
Spray your mirror or window fairly liberally but not so much that it's soaking. 
A key hack is to use a crumpled newspaper to dry and polish the glass. 
Newspaper leaves windows and mirrors completely streak-free, but also free of lint, dust or fabric fibres. 
Most of us don't still get the newspapers in print, which is a shame, but major supermarkets stock free copies of the local paper which you can pick up next time you're in store. 
If you definitely can't get your hands on a newspaper, then your next best bet would be wiping away the vinegar with a microfibre cloth and finishing it off with a dry duster. 
Degreasing Stoves and Ovens 
The build-up of food and grease on our stoves and ovens tend to be fairly difficult to shift. 
Vinegar isn't a particularly strong cleaning product, but it can still do a pretty good job. 
If you're planning on switching your strong chemical oven cleaner to a much less toxic vinegar, then we recommend cleaning little and often.
Wiping down your oven once a week at a minimum with white vinegar will ensure you maintain a clean cooking environment.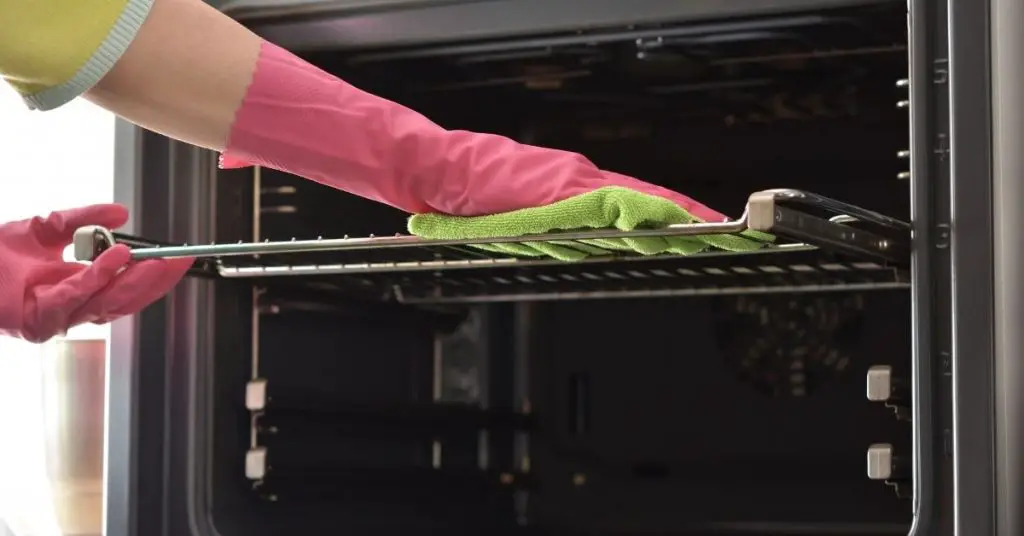 However, leaving your oven without a deep clean for weeks or months means that the grease and burnt-on food probably won't be shifted with just vinegar. 
To clean a stove or oven with white vinegar, dilute white vinegar with water inside a spray bottle and spray the solution all over the oven and stove and wipe with a microfibre cloth. 
If it's not quite getting rid of the burnt food, try using baking soda to scrub away the leftover debris. 
For more oven and stove cleaning tips, try our Clean and Tidy Living Articles: What Is The Best Oven Cleaner UK and How To Clean A Self Cleaning Oven Without Using The Self Cleaning Feature.
Surface Cleaner 
We mentioned earlier that vinegar is an acid which lets it easily cut through grease and grime that builds-up on our surfaces. 
It's also a disinfectant, which makes it the perfect natural solution for wiping up our surfaces.
To clean surfaces with white vinegar, dilute white vinegar with water and add into a spray bottle, spray liberally and wipe down with a microfibre cloth. 
If the vinegar smell is too unpleasant, try adding lemon juice or essential oils to leave a nicer smell behind. 
Or to learn how to make a nicer smelling surface cleaner with essential oils, we recommend this helpful video. 
Removing and Preventing Mould 
Cleaning mould and mildew with vinegar is as simple as dusting off the surface or wiping with a damp cloth, then spraying the area with a mix of half warm water and half white vinegar. 
Leave the vinegar on the surface for half an hour then scrub the mould away and wipe or rinse until clean. 
If there is still mould remaining, respray the area with a more concentrated vinegar solution and leave for an hour, then scrub the mould with a tougher-bristled brush such as the OXO Good Grips Deep Clean Brush.
The good thing about vinegar in cleaning is that it's not harmful and non-toxic, so leaving traces of the vinegar on the area is fine. 
In fact, leaving some remnants of the white vinegar might actually help to prevent mould from regrowing long term. 
For more mould removal and prevention tips, you may find our articles What Is The Best Mould Remover UK and How To Clean Mould Off Vertical Blinds useful. 
Cleaning Dishwashers and Washing Machines 
As well as dissolving grease and grime, vinegar is also effective at cutting through soapy scum.
Gunk tends to build up in our dishwashers and washing machines around the seals and in detergent drawers. 
Spraying down the areas where scum has collected with vinegar and wiping them with a microfibre cloth can get them looking as good as new.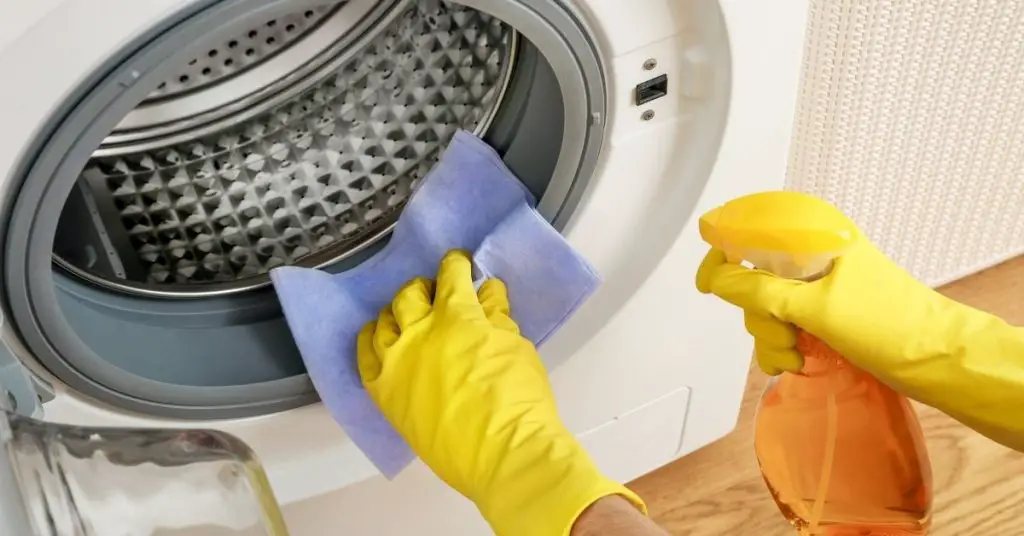 Also including a cup of neat white vinegar in a dishwasher or washing machine cycle can get the inside of our household appliances looking brand new again. 
White vinegar is much cheaper than a purpose-designed washing machine or dishwasher cleaning products, so if it works for you then swapping to the vinegar is a great way to save some pennies. 
Using Vinegar in Laundry 
According to WikiHow, vinegar can be used as a pre-stain treatment, a natural laundry detergent or a fabric conditioner. 
White vinegar works in the laundry because of its ability to cut through grease and grime, which is what tends to smell in our laundry. 
It can also dissolve soapy scum build-up which is great for using occasionally in cycles to refresh towels and linens.
To use vinegar in the laundry, either spray stains, the armpits and the crotches of clothes with white vinegar before washing, or add a cup to the beginning or near the end of a cycle to act as a laundry detergent or fabric conditioner. 
Some people replace store-bought laundry detergents entirely with vinegar, but we think vinegar works best as an accompaniment to these purpose-designed cleaning products. 
Cleaning the Microwave
Cleaning a microwave with white vinegar is cheap, effective and kind of like a fun science experiment. 
To clean a microwave of food residue, fill a microwave-safe bowl with half water and half white vinegar.
Set the microwave on a high and long setting and let the liquid come to a rolling boil and the microwave door to be covered in steam. 
Allow the microwave to cool down until it is safe to touch, then wipe with a clean cloth until the microwave looks brand new. 
Cleaning Limescale and Gunk from Showerheads 
Living in a hard water area comes with its challenges. 
If you're not careful, taps and showers can quickly become blocked by limescale. 
To remove these deposits, you can either use strong chemical solutions or opt for the gentler white vinegar.
If you have removable shower heads and faucets, unscrew the fixtures and leave them in a plastic bag of white vinegar overnight. 
The limescale and other mineral deposits will be loosened by the acidic liquid.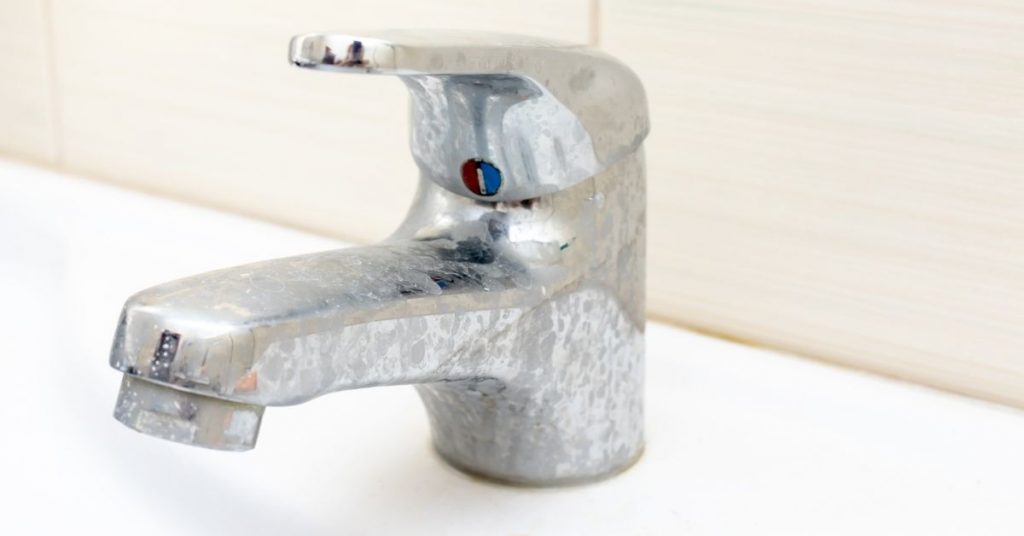 After you remove your metal fixtures, rinse off the vinegar and wipe away or scrub any leftover deposits. 
If your showerheads and faucets are attached, fill a plastic bag about half full with white vinegar, pull it over the fixture so the limescale is submerged in vinegar and tie the bag at the top with an elastic band or hair tie. 
Leave this overnight and use a damp soapy sponge to rinse off any vinegar.  
Where to Buy White Vinegar for Cleaning in the UK – Final Thoughts 
White vinegar is honestly a godsend in household natural cleaning. 
Not only is it cheap and completely non-toxic, but it also does a damn good job at getting things looking in pristine condition. 
We hope that you've found answers to where to buy white vinegar for cleaning in the UK and have enjoyed our quick list of ways to use white vinegar in cleaning. 
If you find that the magical acidic liquid works for your cleaning routine, then you might find you can do away with some of your other cleaning products. 
We love being able to declutter our cleaning products so we can stick to a few core items that do the job of 50 sprays and gels. 
After all, as much as cleaning products are helping us out by creating new formulas, they are still companies trying to make money off of us. 
Occasionally these products are worth trying out, but generally, a lot can be done by just sticking to the basics. 
If you enjoyed this post, you might like some of our similar Clean and Tidy Living articles with advice and product reviews listed below. 
Related Natural Products and Cleaning Hacks Articles:
Where to Buy White Vinegar