De-Wrinkle Your Creased Clothing and Dress Without an Iron
Picture this: You've got your perfect dress ready for your big event and it's covered in wrinkles. So much for dressing to impress.
No one wants to turn up in a wrinkled shirt or dress. 
Sometimes, no matter how well you pack your clothes, wrinkles are inevitable. Or, perhaps breaking out the ironing board seems too much of a chore.
And why is it always last minute when you're ready to leave that you see those wrinkles staring you in the face? As much as you want to, you just know you can't ignore them.
But fear not, if you don't have an iron or even a clothes steamer to hand there are some techniques which work just as well.
Steamers work by heating water until it becomes steam. By creating steam from hot water, you can relax the fabric fibres and wrinkles will naturally fall from your clothes.
In this article, we'll cover 7 hassle-free ways for how to steam clothes without a steamer. So you can wear that dress with confidence, and wrinkle-free.
How to Steam Clothes and Your Dress Without a Steamer
Steam Clothes in the Shower
This is a popular technique and one of our favorites as it's so easy. It works well especially when you're travelling. 
Hang your dress as close to the shower as possible, and keep all doors and windows closed to trap the steam. Relax, wash your hair, shave your legs – 15 minutes is all you need.
Leave it hanging throughout your shower and ta-da! Your dress will be wrinkle-free.
Check out this video below to see how easy it is.
Use the Steam From a Boiling Kettle
This technique is another two in one. Boil the kettle and hold your dress around a foot away from the spout or you could risk damaging your garment.
Be careful as this steam will be especially hot so keep it away from your hands. A hot water tap will also work just as well.
Don't forget to pour yourself a cuppa afterwards.
Facial Steamer
Chances are you aren't travelling with your facial steamer, but if you happen to have one to hand then this gadget will become your multi-tasking best friend. 
Simply turn it on, let the steam pour out and hold your clothes over the top. Watch the wrinkles disappear.
Hair Dryer
This tip is great if you're in a rush. Lay your garment out on a flat surface and run the hair dryer front and back – approximately one to two inches away.
If you're out and about and find your clothes have become wrinkles, try sprinkling the area with water and dryer them under a hand dryer.
How to Iron Clothes Without an Iron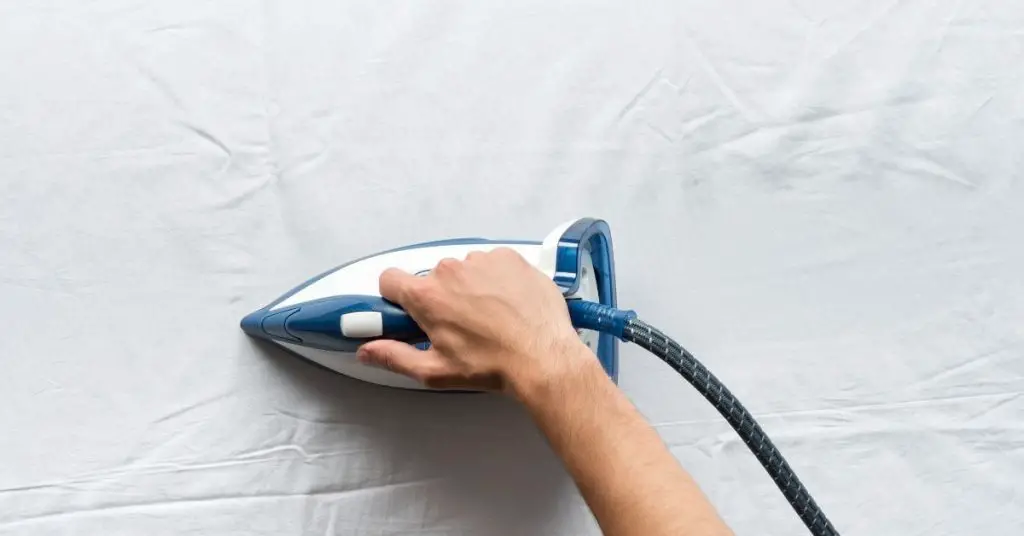 Use Hair Straighteners
No iron? No problem. 
Sprinkle a little bit of water onto your clothes and use the straighteners to iron out any stubborn creases. 
This technique particularly works well on collars, or for clothes with a small area or wrinkles.
Tip: Don't use the hottest setting as this can damage your clothes.
Use the Bottom of a Hot Pot
Boil a pan of water in a metal pot, and once it has reached boiling point, tip the water away. Use the boiling pan to smooth out any creases. 
Once the pan has cooled down, repeat the process until the wrinkles are eliminated. 
Spray Vinegar 
Vinegar is a firm favorite of ours at Clean and Tidy Living, and removing wrinkles is no different.
Combine one part white vinegar with three parts water in a spray bottle and simply mist onto the wrinkles fabric. Leave to air-dry and your clothes will be wrinkle-free.
White vinegar doesn't have a strong smell so you won't smell like your favorite chippy afterwards.
Or if DIY sprays are not your thing, try the all-in-one Downy Wrinkle Release which also doubles up as an anti-static spray.
Our Final Thoughts on How to Steam Clothes Without A Steamer
Wrinkled clothes are nothing new, but when you're in a rush, luckily there are many ways to steam and iron clothes without a steamer or iron. 
Of course, having them at hand is incredibly useful but that can't always be helped. 
When you're in need of removing those pesky wrinkles, have a go at using these simple and easy techniques to smooth out your clothes. 
And if all else fails, wrap your wrinkled item up tightly like a burrito and leave under a heavy item or mattress for 15 minutes. Think of this as pressing your clothes.
You may never need a steamer or iron again!
Related Clothing Care Articles:
How to Steam Clothes Without A Steamer – Fast Ways to Remove Wrinkles