How Much Do House Cleaners Charge Per Hour UK
Studies show that if you have the disposable income to afford a cleaner, then the stress-relief benefits of spending around £30 a week on home-cleaning are immense. 
So if you have the spare change to afford somebody to take on some cleaning and tidying duties, it's definitely worth it. 
Hiring a cleaner allows you to take back some of your spare time so you can focus on the things you love doing. 
And if you enjoy some parts of household cleaning but not others, there's no reason why you shouldn't hire some assistance for help with your least favourite parts of the cleaning schedule. 
So if you're pretty sure you'd like to get some professional assistance with the household chores and would like to know how much it'll set you back, the answer is that it's probably not as much as you think! 
The quick answer to the question of how much does a cleaner cost is that it usually varies from about £9 up to £20 for domestic cleaning. 
There are a few factors that influence the cost of a cleaning service which we'll cover in this post. 
We'll also talk about the other side of it; how much to charge for house cleaning by the hour and the price of commercial cleaning services in the UK. 
How Much Do Cleaners Charge by the Hour?
So how much does a cleaner cost? 
When you're cleaning by the hour, there are a few things to consider when setting your rate.
House cleaning rates per hour are mostly between £10 up to around £18 per hour. 
The factors affecting the rate for domestic house cleaning prices are:
Age
Experience
Whether they're an independent cleaner or part of an agency 
Whether the house provides cleaning products or if the cleaner brings their own
Generally, the hourly rate for house cleaning should start off in line with the national living wage for the specific area. 
The rate then increases if the cleaner has a lot of experience. 
The rate will increase again if they're providing their own cleaning supplies as the cost of these will add up, so expect to pay more for their service.
So, if you're here because you're wondering "How much should I pay my cleaning lady?" then use the following formula:
National Living Wage for your area + extra if they are highly experienced + extra if they are providing their own cleaning products. 
If you're looking for a cheap cleaning service, look on platforms like Facebook and local sites to see whether any teenagers or students are looking for weekend or holiday work to earn some extra money, and provide the cleaning products you'd like them to use. 
How Much to Charge for House Cleaning Per Hour UK
When deciding your cleaning rates, first think about the bare minimum wage you'd need to live comfortably. 
Using the national living wage is a good place to start and you can then adjust this based on your specific situation. 
If you're under 25, you might be paid slightly less as the living wage is lower for workers under this age. 
However, if you've been cleaning since you were 15 years old and are good at what you do, then set your rates accordingly. 
Essentially, your hourly rate for house cleaning should reflect your experience and the cost of any supplies you provide. 
Similarly, if you can clean an entire house in 2 hours, your rate should reflect your efficiency. 
You can explain to your potential clients that your rate is higher because you are highly experienced and it will work out cheaper to pay you for 2 hours than somebody who will take 4 hours for the same task. 
And if you're providing your own cleaning supplies, ensure you're not being left out of pocket at the end of the month.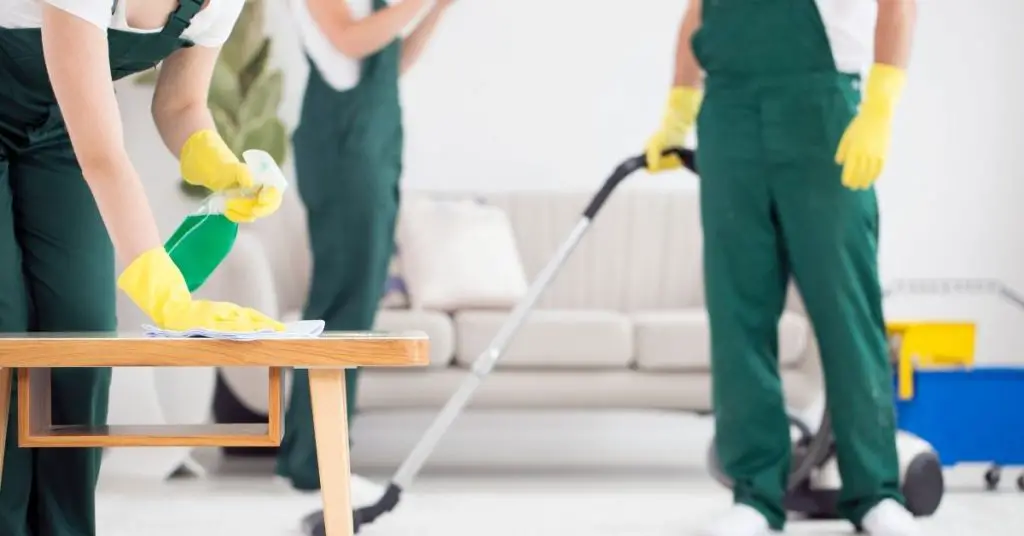 How Much to Charge for Deep Cleaning a House
For a bigger project like a deep-clean of an entire property or an end of tenancy cleaning, we recommend setting prices based on how many days you think it'll take. 
Mostly a flat will take one day, or a day and a half if there are more than 2 bedrooms. 
A house will probably take you two to three days in most cases. 
Once you know how long a deep-clean will take you, think about how much your day rate should be. 
Remember to account for any supplies you pay for out of your own money, and allow yourself time for a lunch break. 
Your day rate should never be less than the living wage and definitely not below the national minimum wage. 
Deep-cleaning is also much more intensive and tiring than general domestic weekly cleaning, so expect it to take longer or be more difficult. 
This should be reflected in your prices, so if you are going to charge hourly then we suggest about £15 per hour. 
Is Hiring a Cleaner Worth It? 
If you can afford to have somebody take on all or some of the cleaning duties, then yes it is worth hiring some assistance. 
If you don't have the spare budget to hire a cleaner, then it's not worth the financial stress just to free up a few hours a week. 
Have a think about how much your time is worth to you, and whether you think you can afford to alleviate some responsibilities onto a domestic cleaner. 
The mental health and quality of life benefits of having more free-time are definitely worth it, as long as the cost isn't going to do more damage than what's gained. 
Investopedia sums this up nicely in their article Is a Maid Worth the Money or Should I Clean Myself?.
If you decide not to hire a cleaner and to tackle the job yourself but are feeling a bit overwhelmed, then we have just the post for you: My House Is Messy, Where Do I Start.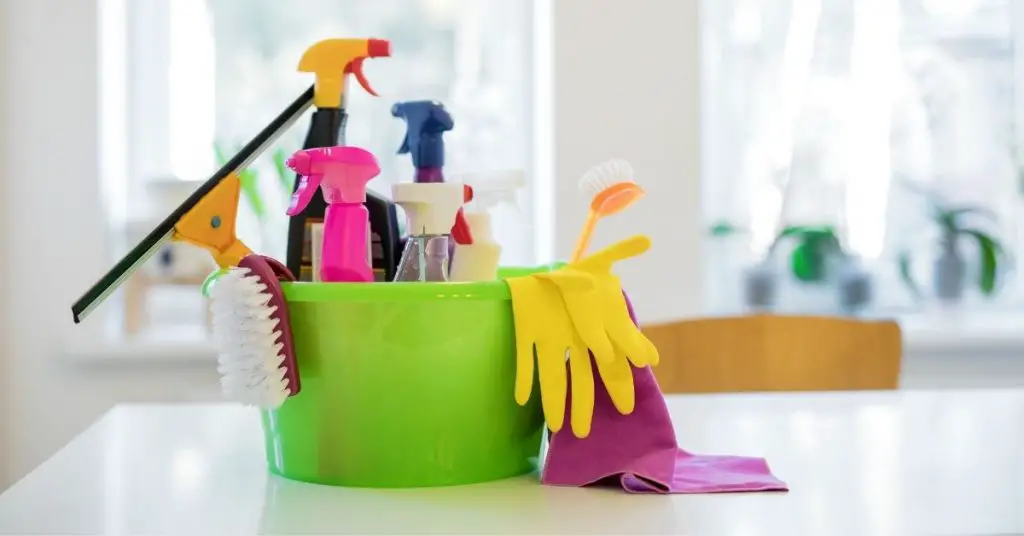 How Much Do Cleaners Charge Per Hour in The UK – Final Thoughts
Unfortunately, there isn't a clear cut answer to the question of how much cleaners charge per hour in the UK. 
Like most professions, this will vary from person to person and from place to place. 
Factors that affect domestic cleaners pricing include their age, experience, skill and whether or not they provide their own cleaning products. 
The short answer is that a cleaner will generally charge between £12.50-£15.00 when cleaning by the hour, but it can be more or less than that. 
We think it's best for cleaners to set their own rates, as they'll truly know the cost of their travel, expenses and the time and energy it takes to do a thorough job. 
Hiring from an agency does make things easier, but as the agency has more staff to pay the cleaners don't take all of the rate themselves and it can end up more expensive than an independent cleaner. 
But, with all that being said we're definitely glad that there's no longer a cultural stigma around hiring extra help with the cleaning. 
Life's short, and if there are some spare funds available to buy back a few hours of your time to spend time with loved ones or to just relax and enjoy your day a bit more, then why wouldn't you. 
We hope this article has been useful, whether you were interested in hiring a cleaner or you're a cleaner wondering how to price your work. 
If you enjoyed this article and would like to read some more from Clean and Tidy Living, take a look at our related posts below. 
Related Cleaning Advice and Organisation Tips Articles:
How Much Do Cleaners Charge Per Hour in The UK