Can you use a Steam Cleaner on a Karndean Floor?
Karndean are producers of luxury vinyl click tile (LVT) that looks good, is cheaper than buying tiles and isn't cold to touch or walk on like tiles. 
LVT has revolutionised flooring in modern homes and renovation projects. 
Gone are the days of rolling out big sheets of laminate or vinyl to sloppily cover a bathroom floor. 
This article will go through the tips, tricks and instructions for cleaning and restoring your Karndean flooring. 
Remember if you've just had your LVT put in, don't clean or get the flooring wet for at least 24 hours.
Every post we've seen has recommended using the specific Karndean cleaning products for regular maintenance, and at Clean and Tidy Living we agree. 
Karndean flooring is hard-wearing and durable but requires specific cleaning chemicals to ensure the layers of polish aren't removed. 
But how can we clean Karndean flooring? 
Can You Steam Clean Karndean Flooring? 
No, you should not steam clean Karndean flooring.
In the short-term steam cleaning Karndean flooring might produce beautiful results, but long term the exact opposite is true. 
The heat and moisture from a steam mop can melt the adhesive and cause the vinyl tiles to lift up or become warped. 
Steam cleaning Karndean and other LVT floors can also cause discolouration or peeling layers of its coating. 
Also, avoid using bleach or bleach-based cleaners as this can cause discolouration and damage to the tiling too.
Can you Vacuum Clean Karndean flooring?
Karndean recommends using a small or medium-sized broom to remove dirt and dust from their range of luxury vinyl tiles.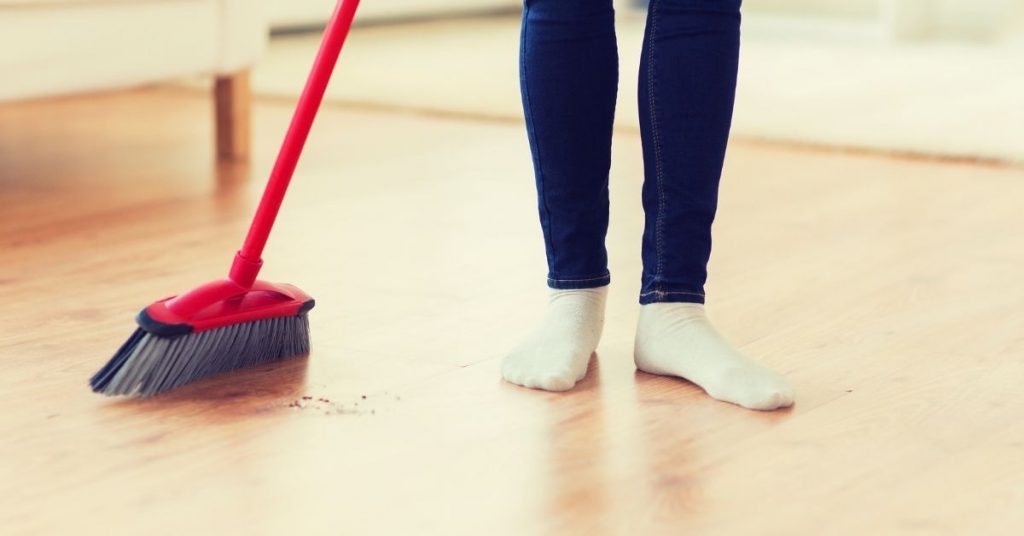 However, this isn't to say that a vacuum cleaner will necessarily cause damage. 
Most hoover manufacturers will state whether or not their products are suitable for use on LVT and Karndean flooring.  
In fact, since you're applying liquids onto the Karndean flooring using the floor care kit, we actually prefer using a vacuum cleaner so we can be sure that no dust or dirt will get caught in the Refresh polish. 
Related: Should You Hoover Or Dust First? The Controversial Truth
How to Clean Karndean Flooring
For best results, we recommend the official Karndean floor cleaning kit which has been specifically designed to retain the original aesthetics of your floor without causing damage. 
Where to Buy Karndean Floor Cleaner 
If you're wondering where to buy Karndean cleaning products other than the Karndean official website, you can purchase Karndean Cleaning Products on Amazon or from some supermarkets or other online retailers. 
If you don't want to use the Karndean cleaning products, Karndean recommends a cleaning agent with a natural PH that doesn't contain damaging chemicals like bleach. 
Karndean has three official cleaning liquids for use on their flooring: 
Karndean Clean is a pH-neutral solution designed to protect and clean gently on Karndean flooring, keeping your floor looking as good as new. 
The product is recommended for use every time you mop your floors, and the other two products are for occasional cleaning to refresh and replenish the 'just-fitted' appearance. 
How to Use Karndean Clean
To use, simply dilute according to the instructions and mop your floor. Remove any excess liquid and allow it to dry naturally.
Since you'll use the Karndean Clean product more than the other products in the Karndean floor care kit, we recommend buying in a bigger bottle.

Available to bulk buy in a 5L bottle – Karndean – Routine Cleaner (5ltr).
After sweeping or vacuuming your Karndean flooring and using the Karndean Clean solution to mop away any dirt, you can then apply the Karndean Remove product to strip away the old layers of grime and polish.
How to Use Kardnean Remove
Fill a bucket with clean water and add the specified amount of Remove to your water. Use a mop to wash the floor and then leave the Remove solution for 5 minutes, making sure not to disturb the product but not letting it dry. 
After 5 minutes, use the coarse pad in the Karndean kit to scrub the floor and 'remove' all of the Remove product. 
Replace the bucket water with clean warm water and use a clean mop to remove the scrubbed up residue from the flooring. 
Follow with the Refresh product (instructions below). 
Karndean Refresh is a non-soluble polish that gives your floor extra protection over time. This Karndean floor polish should be used in conjunction with Karndean Remove for best results. 
How to Use Kardnean Refresh
Pour Karndean Refresh onto the floor following the instructions on the bottle. Using the soft pad on your applicator from the Karndean care kit, spread a thin layer evenly in one direction, over the whole floor.
Re-pour and spread the solution again 30 minutes later, but in the opposite direction to the last time.

Leave the solution undisturbed for 6 hours to fully dry. Overnight whilst everyone is asleep is the best time to do this. 
Karndean refresh is also available to bulk buy in a 5L bottle, although you won't use as much of it as the Karndean Clean product – Karndean Refresh 5ltr. 
Other Karndean Cleaning Products:
Click here for the Karndean – Starter Pack (mop handle required). 
Or for the 2L refill packs of each Karndean cleaning product, click here: Karndean Flooring 2L Refills – 1x Clean, 1x Remove, 1x Refresh 
Karndean Flooring Cleaning Tips
Here are some extra Karndean floor cleaning tips that will keep your LVT looking brand new and maintaining its high quality and durability.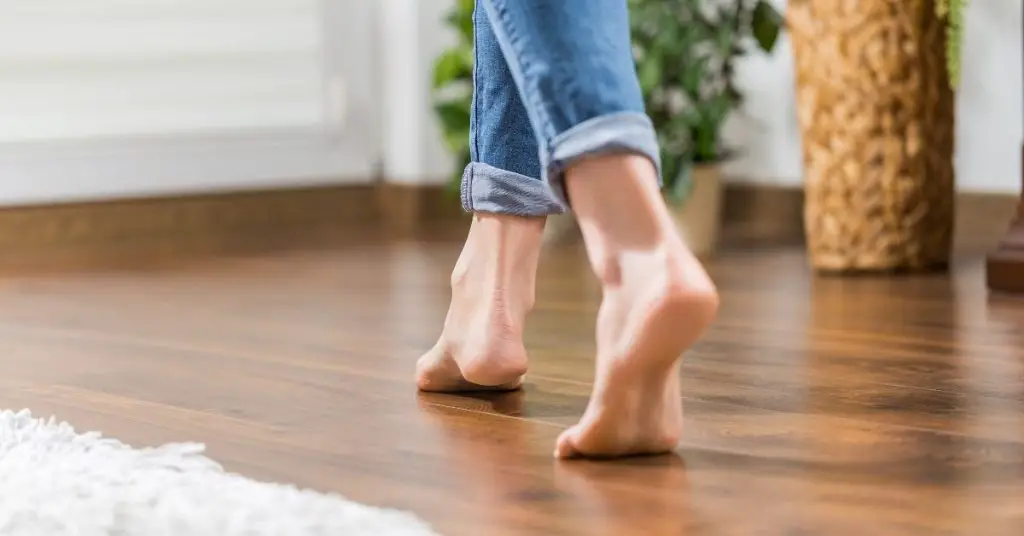 Mat Staining on Karndean Flooring
Rubber mats can stain LVT flooring a browny-yellow colour, so mats with a natural latex backing should be used instead.
How to Remove Scratches from Karndean Flooring
Remove light scratches by applying Karndean Remove with a non-abrasive scouring pad, wiping off the residue with a mop and rinsing thoroughly with clean water. Then re-apply Karndean Refresh to restore the satin finish and protective coating.
Protecting Karndean Flooring from Furniture 
Put felt pads under the feet of your furniture to avoid table and chair legs scratching your Karndean floor.
Scuff Marks on Karndean Flooring
Remove black or rubber scuff marks easily by wiping or scrubbing gently with a Karndean Clean or a non-bleach, neutral pH cleaner.
White Spots on Karndean Flooring
If white water spots appear on your Karndean flooring then apply Karndean Remove to the floor, wipe off with a mop and leave to dry. 
Vacuum Cleaning Karndean Flooring
 Make sure your vacuum cleaner is suitable for use on Karndean flooring before use.
Stains on Karndean Flooring
Most spills will not affect a Karndean floor, especially if they are cleaned up straight away. However, solvent-based liquids, wine and some spices like turmeric may stain Karndean flooring. Refreshing the surface layer of your Karndean floor every 12-18 months using Karndean Remove and Refresh will provide some protection against this type of damage.
How to Clean LVT: Can You Steam Clean Karndean Flooring? – Final Thoughts 
Karndean flooring is a stylish and well-made modern alternative to traditional wood and tile, without compromising on the finished appearance. 
Since it is a luxury expense, it's worth taking extra care when cleaning and looking after Karndean and other luxury vinyl tiles. 
Using steam cleaners or steam mops should certainly be avoided on LVT.
But the quality and cleanliness of Karndean flooring can be maintained with regular cleaning using a medium broom or a Karndean-approved hoover, and a diluted solution of the Karndean Clean product with warm water. 
Additional maintenance every 6-18 months using the Karndean Remove and Karndean Refresh products is advisable. 
This extra step will restore the original appearance of your LVT flooring and ave it looking as good as new. 
We hope these instructions and karndean floor cleaning tips have been useful and have you feeling confident in how to clean your lovely new floor.
For more cleaning tips and organisation advice, check out more of our Clean and Tidy Living articles below. 
Related Floor Cleaning Articles: 
Can You Steam Clean Karndean LVT Flooring?