How to Clean Windows Without Streaks 
What is the best way to clean windows without streaking? You're about to find out! 
Everybody seems to have their own routine for cleaning windows that they claim works better than any other. 
But if you haven't got your own routine down just yet, then don't worry. 
We're going to explain the best way to clean windows, that won't leave any streaks.
Have you ever felt like no matter what product you use, or how long you spend buffing your windows dry, that there are always streaks left behind?  
We all know that feeling when you've been scrubbing away and think you've got your glass completely spotless…
Until the sun hits at just the right angle and reveals all those greasy swirls on the window pane! 
You're absolutely not alone in this one. 
That's why we wanted to create this simple window-cleaning guide, that will have to leave you with perfect streak-free windows! 
In this post, we'll explain: 
The Best Way to Clean Windows Without Streaking
Extra Tips for Streak-Free Windows
Natural Window Cleaner Recipe
Window Cleaning FAQs
Disclosure:
Some of the links below are affiliate links, meaning, at no additional cost to you, we may earn a commission if you click through and make a purchase.
For more information visit this page.
The Best Way to Clean Windows Without Streaking
Cleaning windows only really needs to be done twice a year, so it's worth doing it right when the chore comes around again. 
These step-by-step window cleaning instructions show how it's not a difficult task, but it does require attention to detail. 
If you're also cleaning your window frames and windowsills, we recommend doing this first to avoid getting soap marks or products on your freshly cleaned glass. 
You can use your window cleaning product to clean window sills and frames, but we think just a sponge and dish soap works perfectly for getting those frames up to scratch. 
Once your window surroundings are scrubbed and dried, it's time to get started on the glass. 
The Best Way to Clean Windows Without Streaks
Lay an old towel underneath the window to catch any drips
Remove loose dirt from the window with a clean microfibre cloth or sponge (if you're wondering how to clean windows outside, you can hose them down instead of dusting them with a dry cloth)
Liberally spray the window with your cleaning solution, using a soft-bristled brush or sponge to spot-treat any particularly dirty patches
Use a microfibre cloth to thoroughly but smoothly dry the glass in a z or s-shaped motion
If any dirt or streaks remain, spray and dry again until your glass is clean and streak-free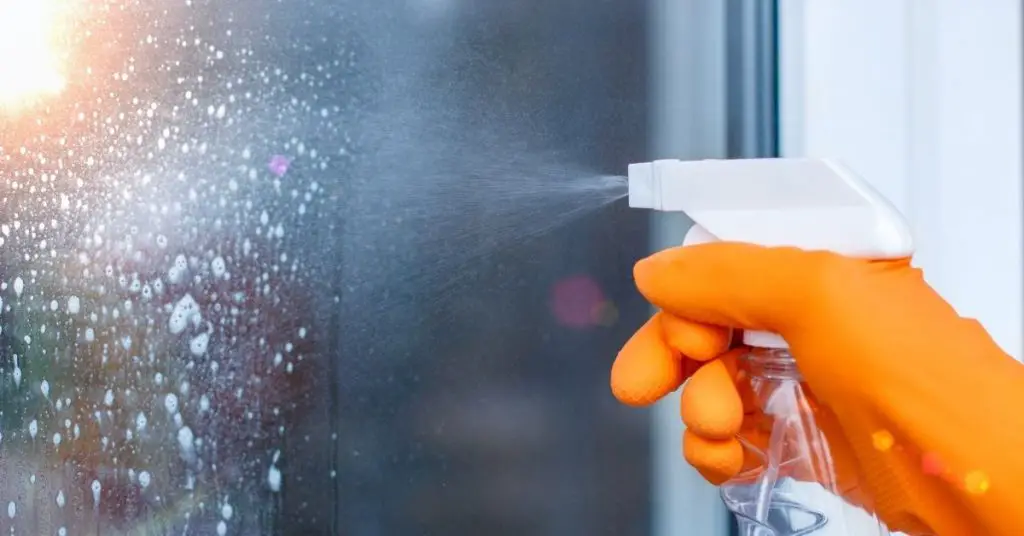 Extra Tips for Streak-Free Windows: 
1. Avoid cleaning windows in the hot sun 
Cleaning windows in the heat makes the cleaning product dry quickly and set onto the glass, making it harder to remove grime and leaving streaks where the product has dried. 
2. Be generous with the product 
You need to thoroughly saturate any dirt on the window to be able to wipe it all away. Don't scrimp on the cleaner! 
3. Wipe horizontally inside, and vertically outside 
If streaks appear on the windows, you'll know immediately whether they are on the inside or outside of the glass.
4. Avoid squeegees on small glass panes 
Squeegees are great for large windows or professionals, but on small glass panes they end up causing a mess and leaving drip marks on the wood and glass itself. 
You might also like our Clean and Tidy Living guide to streak-free TV screens! 
Natural Window Cleaner Recipe:
If you're looking for an easy how-to for making a natural window cleaner, then look no further. 
Making this super-effective window washing solution couldn't be simpler, and you'll probably already have the 3 ingredients at home. 
Mix all of the ingredients together in a spray bottle and shake until combined. It might seem strange to clean windows with vinegar, but this magic ingredient is a staple in cleaning routines around the world. 
The rubbing alcohol is great for removing tough grease and dirt, but if you don't have any at home you can try using two drops of dish soap. 
After you've tackled your windows, you could use any remaining product to clean your mirrors with the same method. 
Window Cleaning FAQs
What Do Professional Window Cleaners Use to Clean Windows?
Some professionals will use industrial cleaners on larger jobs, but most will have their own homemade solutions that they swear by for a streak-free finish. Usually, homemade cleaners will consist of water, an acid such as white vinegar, and a degreaser such as dish soap or rubbing alcohol. 
Why Are My Windows Streaky After I Clean Them? 
Streaks on new windows are most likely caused by improper cleaning, and this is either leftover dirt and dust or residue from cleaning products. To avoid streaks on windows, use plenty of product so you can be sure to remove all of the dirt, and be sure to thoroughly dry the glass with a microfibre cloth. 
Is Newspaper Good for Cleaning Windows?
Yes, a newspaper is better at cleaning windows than using a fluffy towel or duster, but not as good at getting smudge-free glass as the modern lint-free microfibre cloths and towels. Wet newspaper can leave ink marks and smudges on the window, but is a good choice if you don't have access to a microfibre cloth. 
Final Thoughts On What Is the Best Way to Clean Windows Without Streaking 
Well, that's a wrap on Clean and Tidy Living's answer to the question 'what is the best way to clean windows without streaking.' 
It's not the most pleasant task, but once you get it right the results can last for months, meaning you only have to do it twice a year. 
We hope you've enjoyed our guide to streak-free windows. 
There are a range of products on the market claiming to leave no streaks, but we think a homemade remedy works just as well if not better! 
The key to getting a clean window is to be generous with the product to start with and make sure every last drop is removed before it starts to dry. 
And remember to not wash your glass on a hot sunny day, as this causes the product to dry faster – so those smeary lines are almost guaranteed. 
If you've enjoyed this how-to and would like to read more cleaning tips from us, take a look at some of our related posts linked below. 
Related Cleaning Guides and Home Tips From Clean and Tidy Living:
What Is the Best Way to Clean Windows Without Streaking